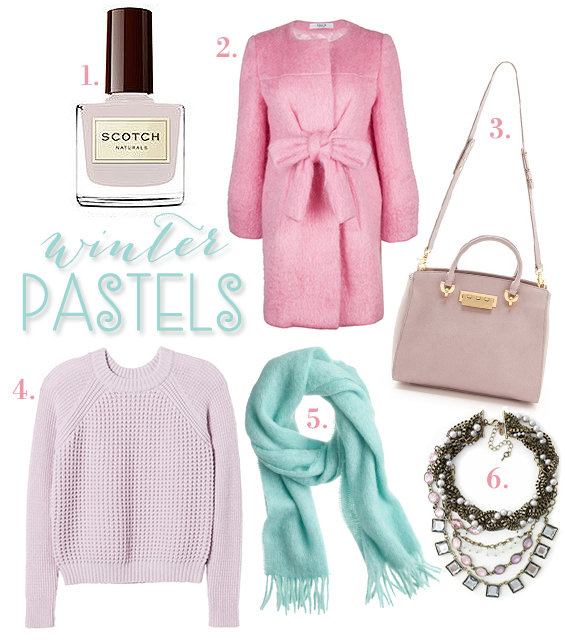 We love discovering new trends and rely on our favorite blogs and magazines to keep us in the know. When we find a look we love, we tend to embrace it in lots of different ways – through clothing, accessories, home décor, and beyond. In today's "Trend Watch" feature, see how Casey plans to incorporate pastels into her life this winter.
Sure, I love a little neon from time to time and regularly rock head to toe neutrals, but nothing makes my heart skip a beat like the perfect pastel shade. I'm thrilled that these soft and feminine shades are sticking around this winter. Here are a few items I'm loving (and lusting after from afar) lately.
Scotch Naturals Nail Lacquer in "Roasted Mellow"
Described eloquently as "lambswool crème," this shade is a unique mix of a very light gray and lilac. The perfect departure from my standard shades ("Snap Happy" by Essie; "Lincoln Park After Dark" by OPI) and non-toxic and eco-friendly to boot.
Fleur B. Pink Bow Coat
Completely out of my price range and as any Chicago girl can attest, far from practical, I spotted this sweet coat on Tumblr a few weeks ago and haven't stopped thinking about it since. Until I can find a worthy dupe, this pastel piece is strictly lust list material.
ZAC Zac Posen "Eartha" Barrel Satchel
A lifelong bag lady, I haven't been impressed with the it-bag offerings over the last few seasons. I'm drawn to simple silhouettes with smart embellishments; this beauty from Zac Posen's collection is the it-bag I've been waiting for.
Rebecca Taylor Textured Pullover
The top three reasons I love this sweater: 1. Wool + cashmere. Sold! 2. Mixing textures is my favorite. 3. The shade is called confetti. Confetti!
J.Crew Italian Brushed Scarf in Misty Green
If there is one indulgence I fully support (and will endorse), it's scarves. I get this philosophy from my grandmother, who believes that when traveling all you need is one outfit, your favorite coat, 10-15 scarves and you're set. I think she'll approve of the latest addition to my collection.
Accessory Concierge "Alice In Chains" Necklace
Pastels with an edge – #killinit, Accessory Concierge! This will make a fabulous addition to any holiday outfit, including the aforementioned Rebecca Taylor sweater. It's like your very own tinsel!
What winter trend are you indulging in this year?