The holidays are upon us (it was just Lollapalooza, wasn't it?) and we are just starving for a little home cookin'. Aren't you?
When it comes to bringing something to a party or gathering, most of the time people resort to greasy puff pastry-like cups with a cheesy filling, plates of I-don't-really-want-this-but-I-guess-I'll-eat-it-anyway cardboard cutout cookies or boring old crudites- lackluster ideas, if you ask us.
Here, the Skirt PR team shares favorite appetizers, side dishes and holiday staples from our cookbooks for classic holiday dishes, cocktail party appetizers and Christmas morning goodies, to give you a few different tried-and-true ideas to add to your rotation.
What is your favorite holiday recipe?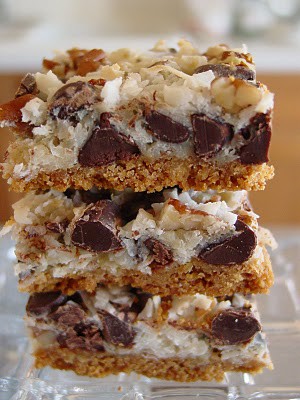 Adrienne's Magic Cookie Bars
This Magic Cookie Bar recipe is my mother's. It's a tradition that every holiday she makes it for me and my family. It's so good that some of us even wake up the next morning and eat it for breakfast!
1/2 cup melted butter
1 1/4 cups graham cracker crumbs
1 cup walnuts, chopped
1 1/3 cups flaked coconut
1 6 oz. package chocolate chips
1 15 oz. can Eagle Brand sweetened condensed milk
Pour melted butter into bottom of a 9 x 9 x 2 pan. Sprinkle crumbs evenly over butter and pat down. Then sprinkle on nuts, chocolate pieces and coconut in that order. Pour milk evenly over top. Bake at 350 degrees for 25 minutes, or until lightly browned. Cool before cutting into bars.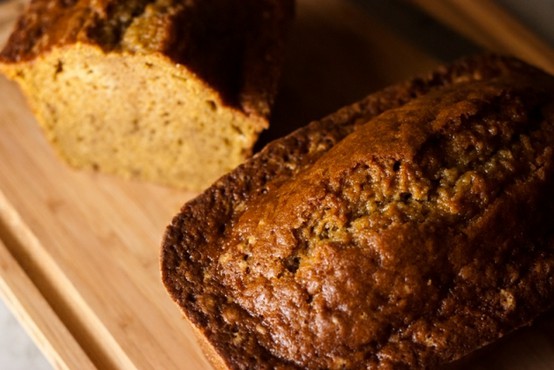 Lauren's Crazy-Yummy Pumpkin Bread
There is seriously no stopping once you start in on my mom's amazing pumpkin bread. I find a way to justify eating it for breakfast (warm, with butter) lunch (goes great with leftover turkey) and dinner (dessert!). It's a must-try and super easy…plus it makes your kitchen smell like heaven!
4 cups sugar
1 1/2 cups oil
5 eggs
2 tsp. salt
3 T. cinnamon
2 1/2 T. nutmeg
1 large can pumpkin
5 1/4 cups flour
3 tsp. baking soda
1 cups water
Mix ingredients in order listed. Pour into 3 greased and floured loaf pans. Bake 1 hour (or more) at 350 degrees.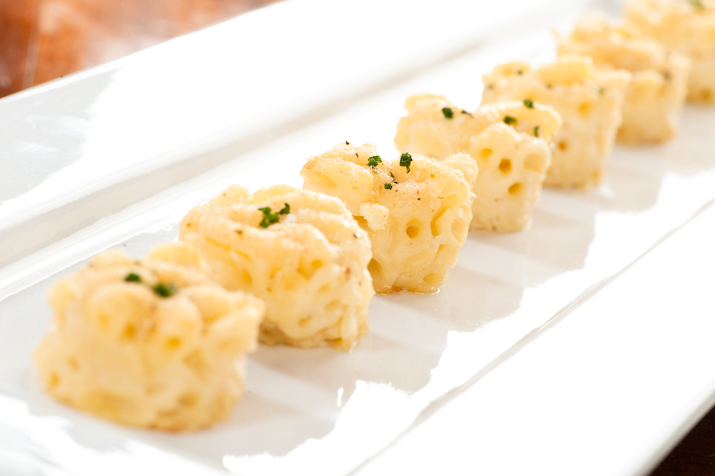 Katelyn's Mac & Cheese Bites
What better way to celebrate the holidays than with a comfort food staple with an upscale twist?  These luxurious mac & cheese bites from executive chef Elaina Vazquez of Boutique Bites catering are hands-down the ultimate crowd-pleaser.
8 oz. elbow macaroni
3 T. butter
3 T. flour
2 1/2 cups milk, heated up
1/2 medium white onion
1 tsp. kosher salt
5 oz. aged white cheddar, grated
2 oz. gruyere cheese, grated
1 oz. parmesan cheese, grated
White truffle oil, to taste
2 T. butter
1/2 cup brioche bread crumbs
1 T. chopped parsley
Preheat oven to 350 degrees F.  In a large pot of boiling salted water, cook the macaroni to al dente (approximately 7 minutes). Strain and place on a lightly oiled sheet pan. While the macaroni is cooking, in a separate pot, melt the butter and whisk in the flour. Continue to cook over low heat for 4 minutes stirring constantly. Add the milk and onion. Simmer for 10 minutes. Remove the onion. Turn off the heat and add 3/4 of the aged cheddar and all of the other cheeses. Add truffle oil to your liking. Season with salt and fold in macaroni. Pour into a casserole dish. Top with remaining cheddar. Melt the butter in a sauté pan and toss bread crumbs and parsley to coat. Top the macaroni with bread crumb mixture. Bake for 30 minutes. Remove from the oven and let cool. Refrigerate four hours or until mac and cheese is cold all the way through.  Use a ring cutter to cut out round circles. Reheat mac and cheese bites in a 350 degree oven until warm. Garnish with fresh minced chives.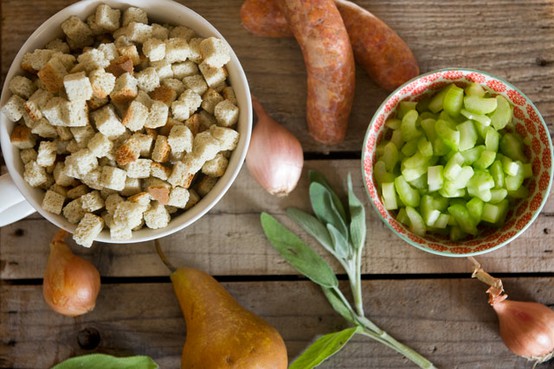 Caryn's Crockpot Dressing
This is my grandma's stuffing recipe. Clearly I don't cook, so I've only had the pleasure of eating it. Sometimes I put on my apron and just stand in my kitchen to feel domestic. That's about as far as that goes–I store shoes in my oven. My grandma cooked three meals a day for her family, all from scratch. I'm lucky if I can scratch open the lid on my Stouffer's meal. Thankfully, I'll be spending the holidays with my wonderfully domestic mother who will keep the spirit of my grandma alive through cooking recipes such as this for our family.
1 cup butter
2 cups chopped onion
2 cups chopped celery
1/4 cup minced parsley
6 cups crumbled cornbread
6 cups slightly dry white bread
4 cups chicken broth
2 eggs, well beaten
1 tsp. baking powder
2 tsp. poultry seasoning
1/2 T. salt
1/2 T. black pepper
2 T. sage or thyme
Sautee onions, celery, parsley in butter til tender. Mix dry ingredients with seasonings and veggies. Pour over bread mixture. Add eggs and mix well. Pack lightly in large crock pot. Cook on high 30 minutes. Turn to low and cook 5-6 hours. May be baked in oven 1 hour at 350 degrees. Thyme may be substituted in for Sage, if preferred. May also be prepared the day before and warmed in the crock pot- Best of all, it won't take oven space.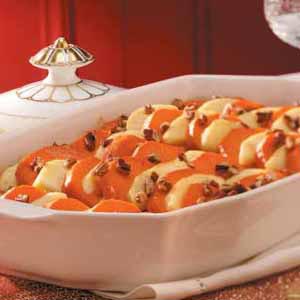 Katie's Sweet Potato Casserole with Apples
My mom makes this amazing sweet potato casserole every year (although, the recipe actually belongs to Ina Garten/Barefoot Contessa). I love it because it's not as super sweet as the traditional version that is topped with toasted marshmallows – a little bit healthier, but still as equally as yummy!
3 large sweet potatoes
1/4 cup orange juice
1/4 cup heavy cream
2 T. butter, melted
3 T. light brown sugar
1/4 tsp. nutmeg
1/8 tsp. cinnamon
1 tsp. salt
1/2 tsp. pepper
6 T. butter
6 apples, peeled, cored and sliced
6 T. brown sugar
Preheat the oven to 375 degrees. Scrub the sweet potatoes and poke with a fork. Bake for an hour and let cool. Combine orange juice, cream, butter, brown sugar, nutmeg, cinnamon, salt and pepper. Remove the sweet potatoes from their skins and combine with the orange juice mixture. I use my immersion blender for this, but a mixer or food processor will also work. Place sweet potato mixture in a casserole dish. Melt butter and brown sugar in a skillet over medium heat.
Add apple slices and saute until lightly browned (about 10 minutes). Top the sweet potatoes with the apple slices. Bake for 30 minutes.
Note: recipe by Ina Garten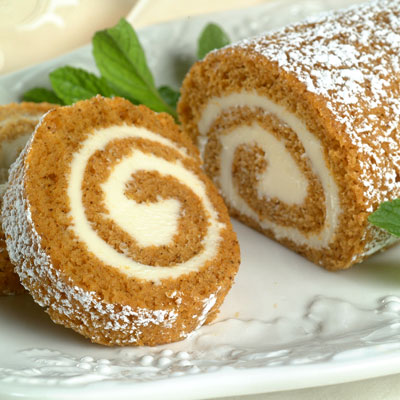 Lindsay's Pumpkin Roll
One of my absolute Thanksgiving favorites is my mom's renowned pumpkin roll recipe. She makes multiple pumpkin rolls every holiday season –she even makes one just for me because I'll admit, I've been known to get pretty protective over my pumpkin roll. The best part is definitely the cream cheese frosting filling (the more the better!). Since I'm not much of a pie lover, a slice of pumpkin roll is the perfect dessert to complete a delicious Thanksgiving feast!
Cake
1/4 cup powdered sugar (to sprinkle on towel)
3/4 cup all-purpose flour
1/2 tsp. baking powder
1/2 tsp. baking soda
1/2 tsp. ground cinnamon
1/2 tsp. ground cloves
1/4 tsp. salt
3 large eggs
1 cup granulated sugar
2/3 cup LIBBY'S® 100% Pure Pumpkin
1 cup walnuts, chopped (optional)
Filling
1 pkg. (8 oz.) cream cheese, at room temperature
1 cup powdered sugar, sifted
6 tablespoons butter or margarine, softened
1 tsp. vanilla extract
Powdered sugar (optional for decoration)
Cake
Preheat oven to 375° F. Grease 15 x 10-inch jelly-roll pan; line with wax paper. Grease and flour paper. Sprinkle a thin, cotton kitchen towel with powdered sugar.
Combine flour, baking powder, baking soda, cinnamon, cloves and salt in small bowl. Beat eggs and granulated sugar in large mixer bowl until thick. Beat in pumpkin. Stir in flour mixture. Spread evenly into prepared pan. Sprinkle with nuts.
Bake for 13 to 15 minutes or until top of cake springs back when touched. (If using a dark-colored pan, begin checking for doneness at 11 minutes.) Immediately loosen and turn cake onto prepared towel. Carefully peel off paper. Roll up cake and towel together, starting with narrow end. Cool on wire rack.
Filling
Beat cream cheese, 1 cup powdered sugar, butter and vanilla extract in small mixer bowl until smooth. Carefully unroll cake. Spread cream cheese mixture over cake. Reroll cake. Wrap in plastic wrap and refrigerate at least one hour. Sprinkle with powdered sugar before serving, if desired.
Cooking Tip:
Be sure to put enough powdered sugar on the towel when rolling up the cake so it will not stick.
Note: recipe by Libby's Pumpkin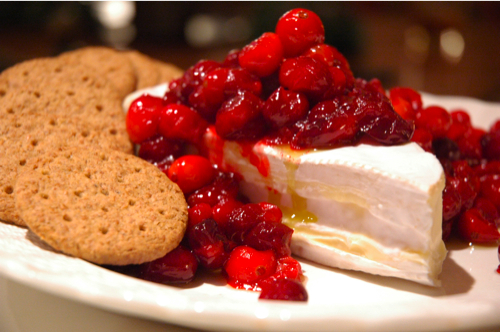 Claire's Cranberry-Glazed Brie
I don't even know where to begin with this thing. It's magic!  This festive hors d'oeuvre alternative is fancy and pretty, but also extraordinarily easy and crowd-pleasing. I've seen five people slam an entire wheel in one evening, it's so delish. It's a gloriously tart and fresh cranberry sauce baked into the most decadent and buttery of cheeses. Bring it to a party on a plate you don't mind leaving for a few days- you don't want to be alone in your house with any leftovers.
3 cups cranberries
3/4 cup brown sugar
1/3 cup currants (optional- I skip this)
1/3 cup of water, port or sherry (I use water)
1/8 tsp. dry mustard
1/8 tsp. allspice
1/8 tsp. cardamom
1/8 tsp. ground cloves
1/8 tsp. ginger
1 2.2 lb Brie wheel
Combine everything but Brie in a heavy non-aluminum saucepan. Cook over med heat until most berries pop, stirring frequently, approx 5 min. Cool to room temp.
Cut a circle in top rind of cheese, leaving a 1/2 in border of rind. Place cheese in 8″ ceramic baking dish. Spread cranberry marmalade over top. Bake at 300 degrees until soft, approx 12 minutes. Serve with crackers and fruit.