The newest addition to Lakeview has arrived: a beercade that redefines how a night out is best played.  The name of the game?  Headquarters, a retro watering hole, offering classic arcade gaming and cleverly-crafted cocktailing within an industrial space.  Owned by Capacity Bar Group, the new establishment opened to the public on October 11, 2012.
With a name coined from the frothy head of a draft beer, plus the quarters needed to play any of the 30+ vintage arcade games lining the space, Headquarters (HQ) appeals to those looking for an alternative to the monotonous.  From savvy Lakeview bar-going veterans to open minded, beer-centric types, to arcade game novices and enthusiasts, the well-rounded and entertaining locale is for players of all types and open 365 days a year.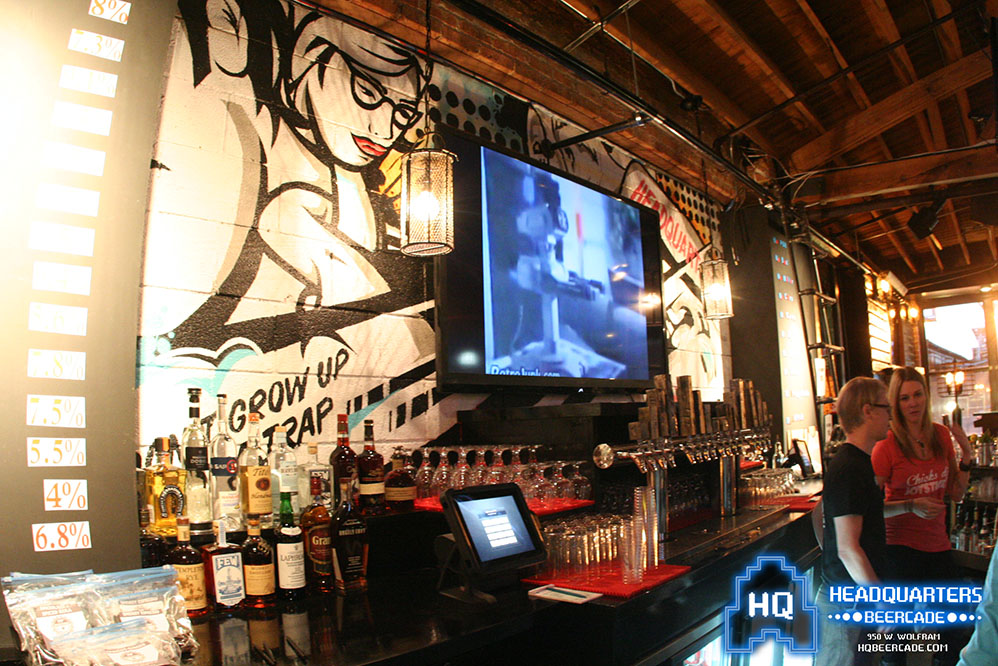 Headquarters is not short on drinks to quench your thirst, and the extensive beer and cocktail lists will not disappoint. Indulge in an array of cleverly-named throwback cocktails crafted by the always-winning mixologists at Pour Souls.  From The Billy Mitchell (Gin, Malort, Lime, and Fever Tree Bitter Lemon Soda), a tart concoction inspired by the first person to ever achieve a perfect score at Pac-Man, to the Raging Bull (Jerky-infused Bourbon, Baltic Porter, Maple and Lemon), a smoky twist on traditional bourbon, Headquarters is strategically equipped with a full supply of "juice", ranging from $7 – $12.  Beer lovers can rejoice over a curated craft beer list, including favorites like the Solemn Oath IPA, Dark Horse Raspberry Ale, and Big Muddy Brewery Smashing Pumpkin, or try any of the 16 options on tap.
Head back in time to play fan favorites such as Centipede, Donkey Kong, NBA Jam, Rampage, Tetris, Contra, Excite Bike, GORF, Spy Hunter, and Gauntlet, among many others. Guests can take part in various promotions and contests, purchase tongue-in-cheek limited edition T-shirts and original artwork and partake in the community in many other ways.
For current game, cocktail and beer lists and the option to submit your own suggestions, as well as events, hours and more, visit www.hqbeercade.com.
950 W. Wolfram in Chicago, IL, 60657 | (773) 665-5660 | Facebook | Twitter | Pinterest | Instagram: HQ_Chicago 
Photo Credit: HQBeercade.com.