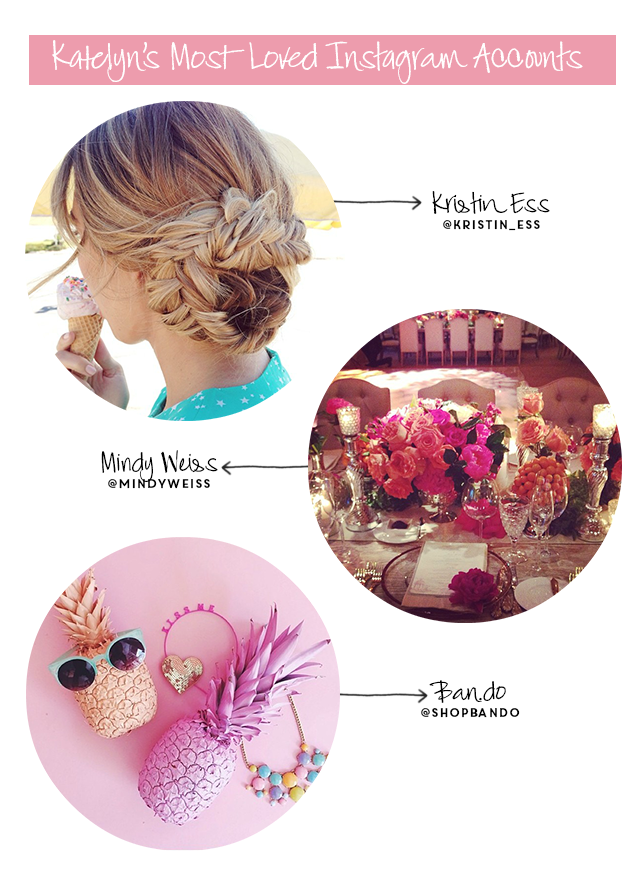 Instagram keeps me coming back for more for a variety of reason: I love staying up to date on my friends' latest adventures (and developing serious cases of #fomo); discovering funny and pun-ny hashtags, but mostly, uncovering new inspiration. I can't count the number of times I scroll through and stumble upon something I immediately screenshot for future use, whether it's an element for a client event, design ideas for my new home, or simply a new style to try. Here are a few of my favorite IG peeps that I can always rely on to dole out some #Erhmahgerd goodies.
Kristin Ess (@kristin_ess)
As hair stylist to the hair goddess, Lauren Conrad, Kristin's feed teems with locks that you will love. From eye-catching highlights to how to perfect the best "mermaid shot" in the pool, she's always posting the cutest tips for your tresses. Not to mention, her captions equally as adorable and inspiring.
Mindy Weiss (@mindyweiss)
Granted I'm in an industry that's always producing events, but I'm also a former bride who STILL can't get enough wedding inspiration. Resident wedding planner to the stars and the insanely financially endowed, Mindy compiles the most unbelievable, jaw-dropping spectacles and calls it just another day on the job. Feed your bridal binge with you've-got-to-be-kidding-me flowers, $20,000 wedding gowns, and everything in between.
Ban.do (@shopbando)
I have serious love for this LA-based design house. I think if this brand and Skirt PR were real people, they'd be besties. Ban.do has mastered the art of genius Instagrams. Sunglasses on pineapples? Destiny's Child-themed Chipotle runs? Words made out of confetti? From perspective and positioning to content and creativity, their social media team just thinks about things differently to produce photos I'm constantly flagging. It doesn't hurt that their products are super fun, either.
Where do you find inspiration on Instagram?