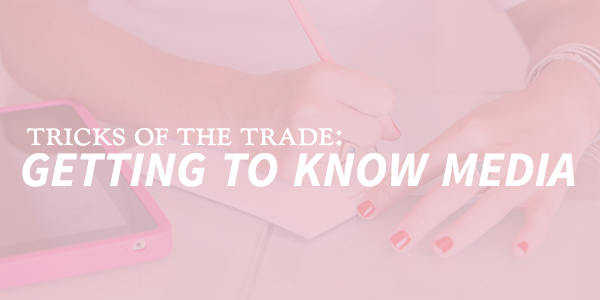 A well organized and up-to-date media list is a PR pro's bible! Proper contacts and editor relationships are the foundation to a successful public relations program. Knowing where to start and if you have the correct contacts can be hard and time consuming. I have highlighted a few tips below for creating media lists and ways to start making those relationships.
Use Resources
•  Referencing print publication's mastheads is a great place to start. A masthead is a printed list that provides everyone's title and name who contributed to the publication. For online, some websites will list a contact page or an about section that includes writer's titles and names. Another good way to find contacts is by reading articles to identify an editor's beat.
•  Double check titles and corresponding publications by finding the contact on social media or LinkedIn. Editors move around a lot, so this is a must!
•  One of my favorite resources is free and easy. Try giving publications a phone call!
Stay Up-to-Date
•  As in most fields, writers, editors, and freelancers are constantly moving jobs and positions. Keeping up with all the moves can be tricky. The best way to stay on track by tuning to The Daily Media and Fashion Monitor.
Make Personal Connections
•  Editors get pitched a million times a day about various topics. So what makes them open your email? Besides having a relevant pitch and a catchy headline, having a personal relationship with them goes a long way! Start networking with media early on and don't just target high ranking editors. Assistants are usually helpful and a place to start. They are more likely to take you up on the offer and can provide great insight on the publication. These individuals may be starting their career but are likely to be an impactful influencer in the next few years.
•  A great way to start creating those relationships is by emailing editors that live in your area and asking them to grab a coffee or a drink. Attending industry events is also a great way to meet people.
What are you tips for building strong professional relationships?