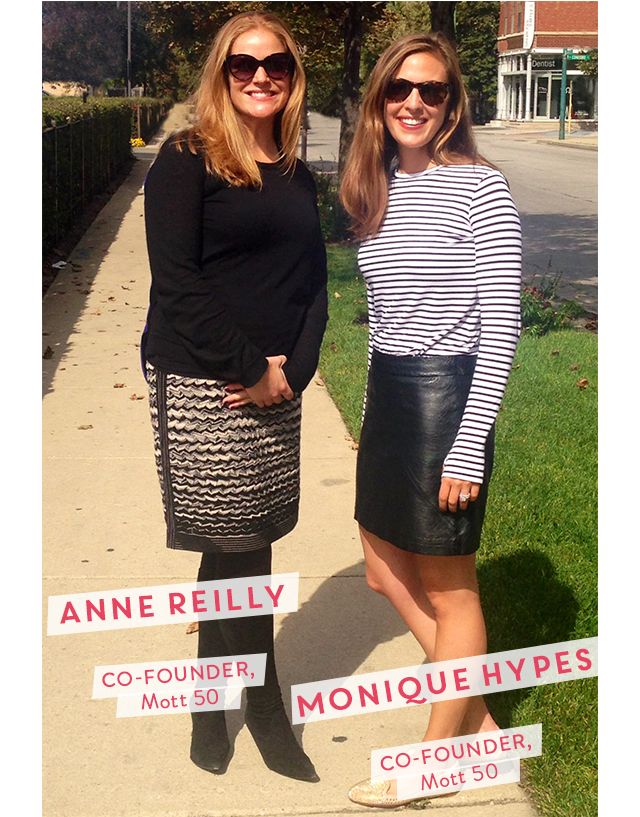 Skirt the rules: To avoid the rules without breaking them.
To do things in a new, creative way. We like the sound of that.
Each month, we catch up with women who manage to balance
coveted careers with daily life, all while looking fabulous.
Tell us how you styled your skirt!
Anne: I just had a baby so I am living in my comfy Missoni skirt, Manolo Boots and my favorite Mott 50 long sleeve "Coco" tee.
Monique: My favorite Vince leather skirt (from 2008…so old, but I love it!) paired with my Mott 50 "Ginger" long-sleeve top, Valentino flats and Oliver Peoples sunglasses.
Describe an ideal afternoon.
Anne: An ideal afternoon would be spent with my husband and two babies at the beach!
Monique: I love Sundays! Sleep in, run by the water with my husband or a friend, smoothies from Chicago Health Foods on Walton, reading and light urban gardening on our roof, oysters, sliders & beers at Fish Bar around 4 p.m., and then home for 60 Minutes.
In your eyes, the three keys to success are:
Anne: Be passionate about what you do. Don't take no for an answer. Laugh it off.
Monique: Passion. Hard work. A sense of humor.
The best piece of advice you've ever been given:
Anne:  Surround yourself with the right people.
Monique: 1. Don't take yourself too seriously 2. Follow your gut. That's actually two pieces of advice, but they were imparted upon me in the same conversation.
A foolproof beauty trick that you're willing to share:
Anne: I have little tubes of Aquaphor in every bag. During the day I use it on my lips and before bed, under my eyes.
Monique: Smile.
The best part of your job:
Anne: Meeting people who are able to do something they weren't able to do before they started wearing our products!
Monique: I love being an entrepreneur. It's challenging, rewarding & every day is different.
Learn more about Mott 50 & shop their latest collection at http://www.mott50.com!