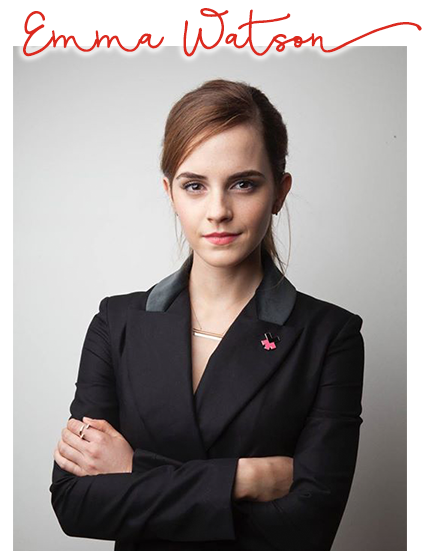 As a devoted Harry Potter fan, I grew up wishing Hermione Granger was my BFF. Hermione was a talented, self-confident, intelligent young woman who likes to help others and she was my role model. Little did I know that Emma Watson, the actress that plays Hermione in the movies, would act as my biggest role model post-Potter. Here are a few reasons why I find her to be so inspiring:
She's a fashion-loving humanitarian: Not only is she one of my style icons, but she recognizes the impact that the fashion industry has on the world. (Say "no" to fast fashion!)
She's was named a Goodwill Ambassador by the United Nations Entity for Gender Equality and the Empowerment of Women: "The chance to make a real difference is not an opportunity that everyone is given and is one I have no intention of taking lightly. Women's rights are something so inextricably linked with who I am, so deeply personal and rooted in my life that I can't imagine an opportunity more exciting."  Just, yes.  How incredible is it that she took her position as an influencer to stand up for something she was passionate about and really work to make a difference? (Make sure you check out her initiative, HeForShe.)
She knows the importance of personal development: Emma recently announced that she is taking time off from acting to focus on personal development and furthering her knowledge of gender studies.  "I'm reading a lot this year, and I want to do a lot of listening," she said.  She recently started her own book club called Our Shared Shelf – learn how to join here.
She's a killer beat-boxer. She dropped a mean beat during an interview with Lin-Manuel Miranda, making me love her even more than I already do! The entire interview is a must-see, but you can see her beat-box in this clip.
Who is your favorite #girlboss?