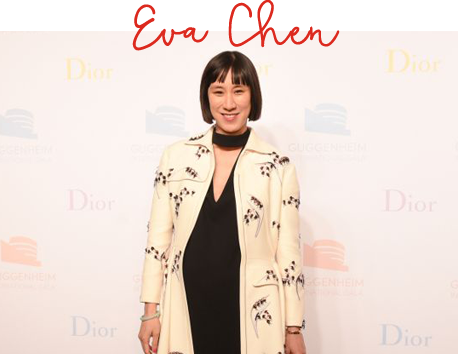 Given the debut of "Girlboss" on Netflix, it seems fitting to pay tribute to someone I have always thought truly embodied the term: a perennial Skirt favorite, Eva Chen.
She has had the career of many women's dreams. After starting at Lucky magazine in the credits department, she worked her way through Elle, Teen Vogue, and ultimately, returned to Lucky as its youngest editor-in-chief. She joined Instagram in 2015 as the director of fashion partnerships. One article dubbed her as the Anna Wintour of the digital age — hefty shoes that I think she fills (and then some!).
She is the ultimate resource for what's trending. Her knowledge of the fashion world is insurmountable at this point, and I can always rely on her Instagram feed and Instagram stories (my favorite!) for a rundown of brands I should be watching and beauty products everyone will be talking about.
She is now the parent of two. As a mom myself, I can't throw enough high fives and #yougogirls her way. She chronicles her adorable minis, toddler Ren and her new baby, Tao, in a way that I can totally relate to, but also in a manner I hope that countless others (who aren't mothers), appreciate as insight in to inner workings of life as a working mom (a term which needs major rethinking, by the way. All moms are working moms!).

She's an inspiration in building your own brand. From her signature #EvaChenpose to her love of tiny bags and LaCroix Water, some days I feel like I can peg what's "so Eva" better than I can my own style!