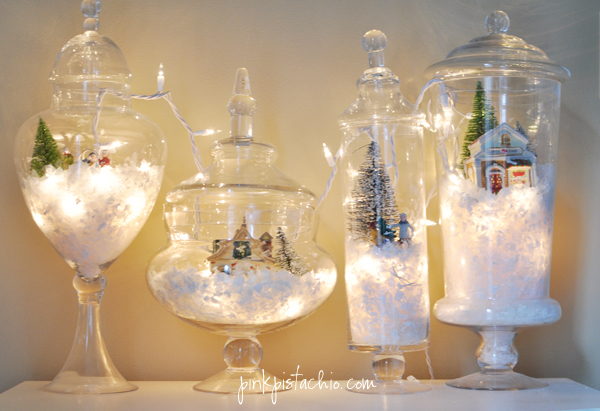 Snow Globe Apothecary Jars (DIY via)
Items Needed
Empty glass vases or apothecary jars
LED Christmas lights
Artificial snow
Christmas decorations of your choice
1. Layer artificial snow and LED Christmas lights in apothecary jars of varying sizes.
2. Add Christmas decorations of your choice, adding artificial snow as needed.
3. Position on the surface of your choice and enjoy!

Cranberry Floral Arrangements
Items Needed
One bag of cranberries
Faux florals of your choice (we love classic ivory!)
Tall cylinder vase
1. Layer cranberries in tall cylinder vase, filling about halfway.
2. Add faux florals and top off with cranberries, ensuring the stem is not visible.
3. Add to your dining table or mantle for a festive touch!