You know that girl that walks into a room and within five minutes you a) want to be her, b) want to be her best friend and 3) want to know how she is just so effortlessly cool? That girl is one of my oldest and dearest friends, Jennifer Olson. In addition to being the ultimate cool girl, incredibly fun-loving and innately fashionable, she also happens to (of course) have a killer job at Club Monaco. As my neighbor down the street in St. Paul, MN, classmate and girlfriend for thirteen years, I've watched her blossom in her career and also develop a killer sense of style. I thought it might be fun pick her brain in the hopes that she'll reveal some of her "it girl" secrets and help us all up our cool factor a bit.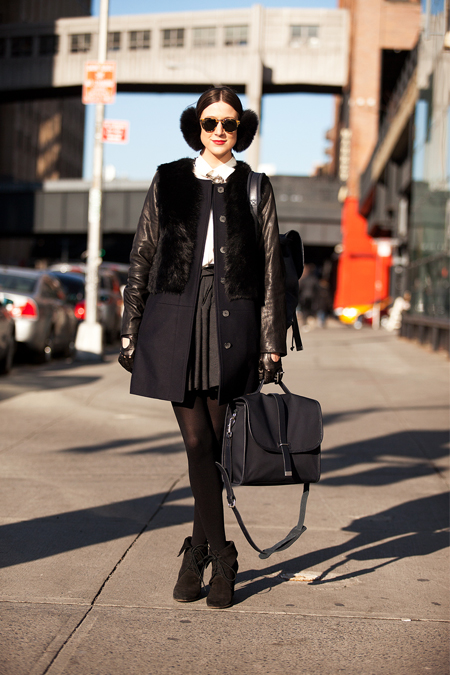 What is your official title at Club Monaco?
Marketing Coordinator.
Tell us about a typical day in your life.
A soy latte from variety cafe + spotify + dance contests with my co-workers.
Congrats on the e-commerce launch!  What was the most challenging part of that process?  The most rewarding?
Club monaco is already popular on the east and west coast, so it's exciting to be able to finally offer our product to the rest of the country. Gotta rep the Midwest.
Blogs I check every weekly….
jakandjil
reference library
brooklyn vegan
art ruby
cabin porn
How do you think Midwestern style differs from New York?  How did your style evolve when you moved to NY?
Though New Yorkers tend to generally be more stylish, I think people underestimate the hidden gems of the Midwest. Middle America has some of the best vintage stock in the states. Within the past few years, I've discovered that some of the biggest and best vintage dealers in NYC make the rounds at the same thrift stores I shopped at in high school.
Describe your sense of style in one sentence.
New age fun with a vintage feel.
Three things I'm currently coveting are…
Acne pistol ankle boots
Minnesota lakes
Animal Collective's new album Centipede Hz
Favorite thing to indulge in:
Pina colada + adult grilled cheese from the Commodore (Williamsburg, Brooklyn).
Current wardrobe staples:
My boyfriend's destroyed APC jeans
Swedish hasbeens jodhpurs
Celine 3 pocket clutch in blush
What is your favorite place to take out-of-town visitors in New York?
Bike rides through Brooklyn's Navy Yard/Vinegar Hill.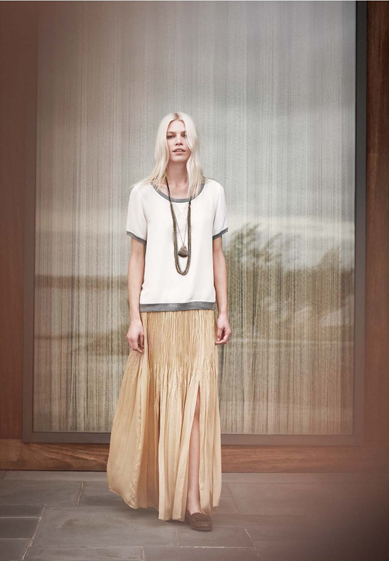 The Skirt I'd wear to make an impression…
I rarely get too girly, but I'm digging the longer length in skirts & dresses. I love Aline Weber in our Adele skirt (see above).
You have the most beautiful porcelain skin – can you share any beauty secrets?
Laura Mercier is responsible for everything on my face.