I've grown up with a peculiar affinity for fall. Perhaps because it's my mother's self-professed most beloved time of the year (she loves a good long sleeve), or due to the fact that my Dallas upbringing gave me a taste of it and left me yearning for more (after all, seasons there consist of: summer and post-summer). Regardless, my decision to plant myself in the Windy City for the foreseeable future always leaves me with quite the quandary for this season of change: I live in heels. I don't like enormous, bulky jackets. Hats look terrible on me. But staying toasty and stylish is non-negotiable.
How do I manage? It's a survival of the fittest – that is, pieces that fit (and function) in my winter wardrobe parameters. Here are the items I'm praying end up in my closet for fall: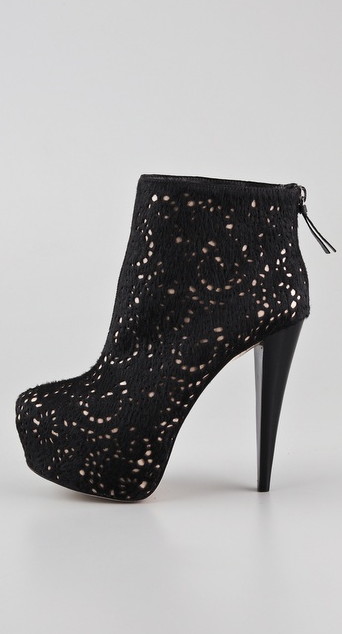 Alice + Olivia Paige Haircalf Platform Booties
For me, booties are a thing of beauty if the "ankle area" extends just above the small of your ankle (nothing below the ankle bone, or high enough to potentially be considered a half-boot). I also always seek a platform, an exposed zipper (duh) or subtle texture.
Alice + Olivia's new laser-cut patterned bootie in black is a no-brainer. Closed-toe heels are truly the only option as fall turns to winter, and they can pull together a look seamlessly. Sturdy enough to keep me afloat despite Chicago's tough tundra-like terrain and versatile enough to pair with sleek skinnies or opaque tights and skirt, this shoe splurge kicks my fall season into high gear.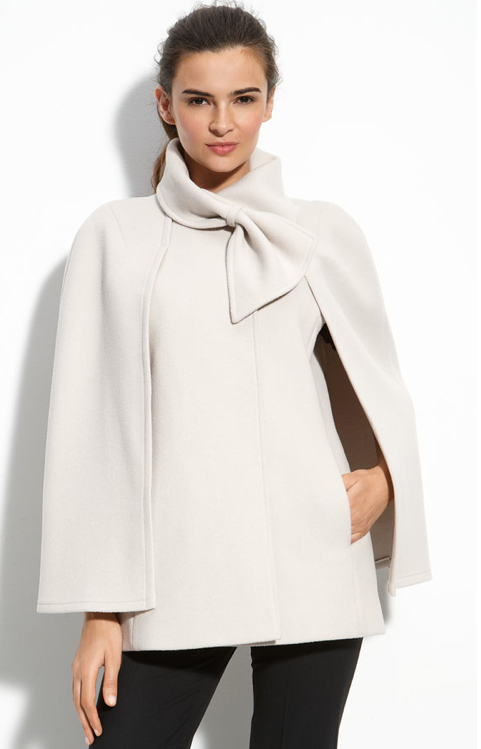 I'll be honest: I've been a bit skeptical of the capelet phenomenon – largely because I think I simply dislike the world capelet (I mean, what's the real difference between that and a cape?). When I stumbled upon this Tahari gem, though, I knew I may need to re-think my verbiage conundrum. The folded stand collar that's gathered into a soft half-bow is subtly chic, and I always find it difficult to resist a winter white. It's the perfect transition piece to take me from client meetings to a night out with girlfriends as a jacket/poncho/cape/capelet I actually want to keep on.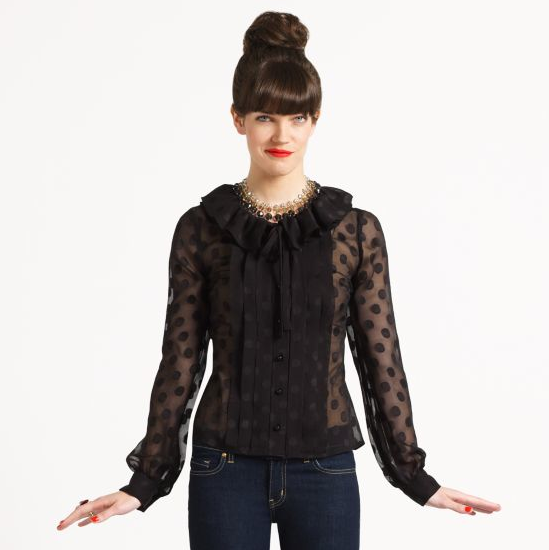 Kate Spade Ruffled Lynette Blouse
Since two all-time greats Marc Jacobs and Diane von Furstenberg showcased models in this playful pattern on the fall 2011 runway, polka dots are certainly a print I can take for a spin. Under the inevitable scarf, overcoat, sweater, and more, feminine blouses ground my fall ensembles and leave me feeling polished and prepared. Between the dots, ruffle, and Kate Spade tag, this is a quintessential addition to my layered line-up. Tucked into a bright, bold skirt (color is an all-over must for fall), this blouse is an outfit-making piece that hits the spot (c'mon – I couldn't resist that pun!).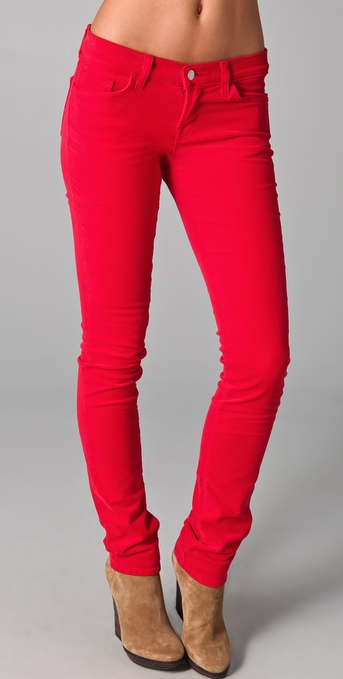 J. Brand Bright Corduroy Pencil Leg Pant
For fall, I'm craving all of sorts of bright colors, and therefore, am obviously obsessing over these pants. J. Brand has knack for creating a comfortable narrow-legged bottoms, and these bold shades make for an impeccable statement piece. The corduroy offers a bit of '70s flair (another trend to try this autumn!) and warmth (trying to be a practical Chicagoan, here!). For my fellow J.Crew junkies out there, I consider these to be an edgier alternative to the classic Minnie pant in a punchier hue. The only drawback to these gems – how will I ever pick one color?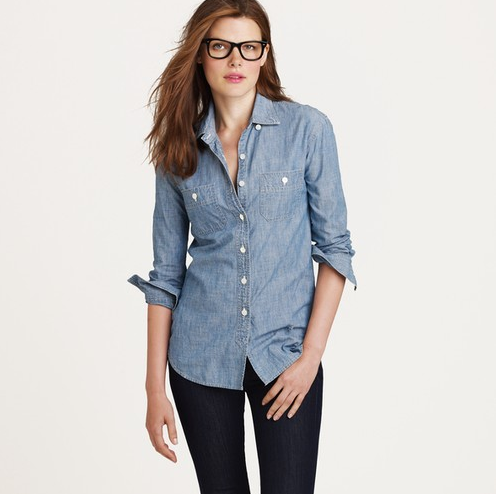 J.Crew Selvedge Chambray Shirt
How could I create a must-have list without the always-on-point J.Crew (see "junkie" comment above)? If I was being truly fair, I would simply hyperlink the website and call it a day – its collection continues to shine as my day-in, day-out, go-to pieces. I often find myself wrapped entirely in J.CREW ensembles, so it's no surprise that this heirloom-worthy shirt doesn't disappoint. It's casually chic and can be topped with a striped ¾ length top for added style, or dressed up with dazzling necklace, structured blazer, and sequin skirt (or if we're really feeling funky, leather leggings). I'm thrilled that button-ups have made a classic comeback into my arsenal – so much so, that this number might even persuade me to dive into the denim-on-denim trend (you can't blame a Texan girl for being shy about that one – Texas Tuxedo, anyone?).