Last week, I had the opportunity to enjoy three of my favorite things, all in one evening – fashion, food, and fabulous conversation.  As part of a brilliant new series organized by Nicki Brashear of Fashionista Chicago and Katie Schuppler of KS Style Consulting called Dish on Fashion, I was invited to join a small group of esteemed colleagues in the Chicago fashion and media community for a tasty meal and lively chit-chat.
We arrived to Erwin on Halsted to an amazing (and unexpected surprise) – a fully loaded gift bag at each place setting, stocked to the brim with incredible items from local Chicago businesses.  I've encountered my fair share of gift bags in this business, and this one was well above average – heavy on the substance, light on the paper (don't you just hate collecting all those 10% off coupons??).  From Sequin bracelets and a 2 Sisters Ring to luxe hair products from George, the Salon…let's just say it was quite a treat.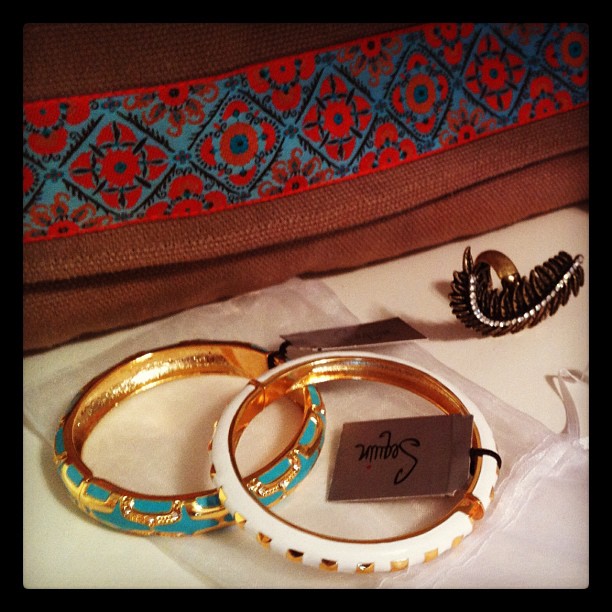 Just a few of my fab takeaways
However, the best part of the evening (as usually proves to be true) was the company and the conversation.  In addition to hosts, Nicki and Katie, I was joined by the following lovely ladies: Jessica McCafferty of Janice McCafferty Communications, Emma Arnold of Tres Awesome, Kelly Ryan O'Brien of Chicago Blogger Network, Carrie Wenzel of Chicago Fashion Resource, and Mary Lee and Katie Cahnmann of Now you Know Events.  Conversation came easily, as we dished on topics such as a shared obsession with Pinterest and Instagram, upcoming Fashion Focus events, the city's spookiest haunted houses (not for the faint of heart, I learned!) and the merits of an ever-expanding shoe collection.
I had never dined at Erwin before, but I will definitely be going back; my fried green tomatoes were nothing short of delicious!  The ambience was cozy and intimate – the perfect backdrop to our fashionable chitter chatter.  I love these events…they remind me what a flourishing fashion community we have here in Chicago and make me all the more excited to discover new blogs and hidden gem boutiques.  On top of that…I was lucky enough to win the raffle and leave with a brand new Whether Bag!!
So ladies, this experience begs me to ask you to comment on two hotly discussed topics – are platform shoes on their way out (I say ohmygoodness NO) and what makes you want to visit a blog every day?