While there's definitely no shortage of fashion sites out there that provide great styling tips and the latest trends, few are pulling off what Chicago-based startup Garmental is doing – bringing a virtual roadmap for readers to navigate the local, brick-and-mortar boutique scene. And that's just the beginning!
Here are a few things that set Garmental apart:
Look of the Day
The easy-to-read, virtual window shopping experience allows readers to take a peek at some of the top looks from boutiques they've never visited, before committing to make the trek there. It's also a great resource for those looking to do a bit of style and shopping research before coming to town.
Pre-Shop Real Boutiques
The online startup only features local boutiques and retailers – helping Chicago's shops (both big and small) to survive any climate that may come their way.
While flash sale sites and discount shopping experiences are trying to change the fashion landscape to a digitally-focused, impersonal process, Garmental strives to keep the actual shopping experience alive, inviting users to look for fashion inspiration online and then shop for the looks offline.
Profiles & Ratings
Users sign up and create profiles (think Facebook but for fashion!), add personality to their accounts by "liking" favorite daily looks and rating designers and boutiques. If a user happened to love an encounter with a certain boutique, he or she can give it five stars, so other users can have a similar experience.
Network With Fashion Lovers
Giving fashionistas a platform for sharing their likes and dislikes makes it a perfect online environment to meet up and connect, as well as learn about new trends!
For daily inspiration, style stimulation and full boutique coverage, visit Garmental.com.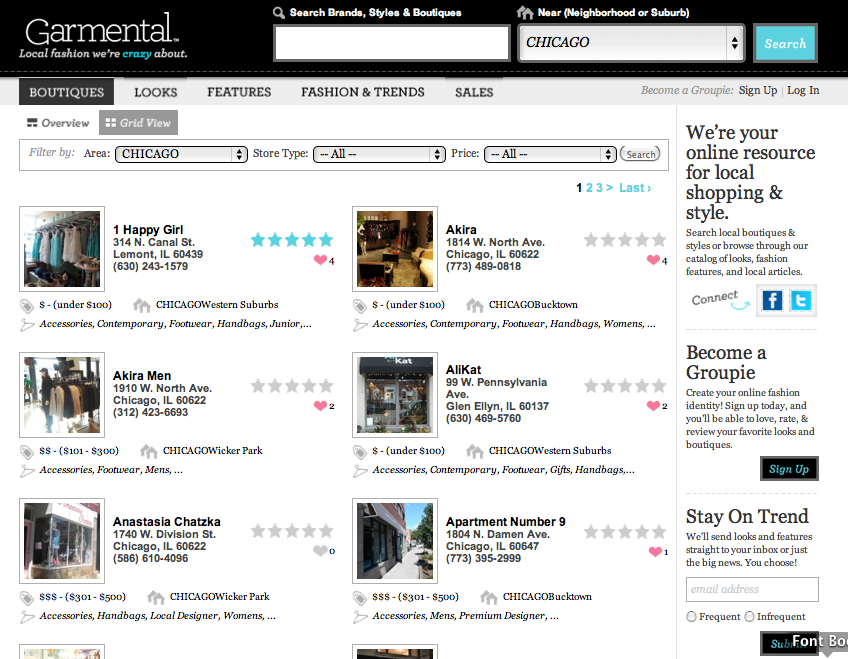 Overview of Local Chicago Boutiques on Garmental.com