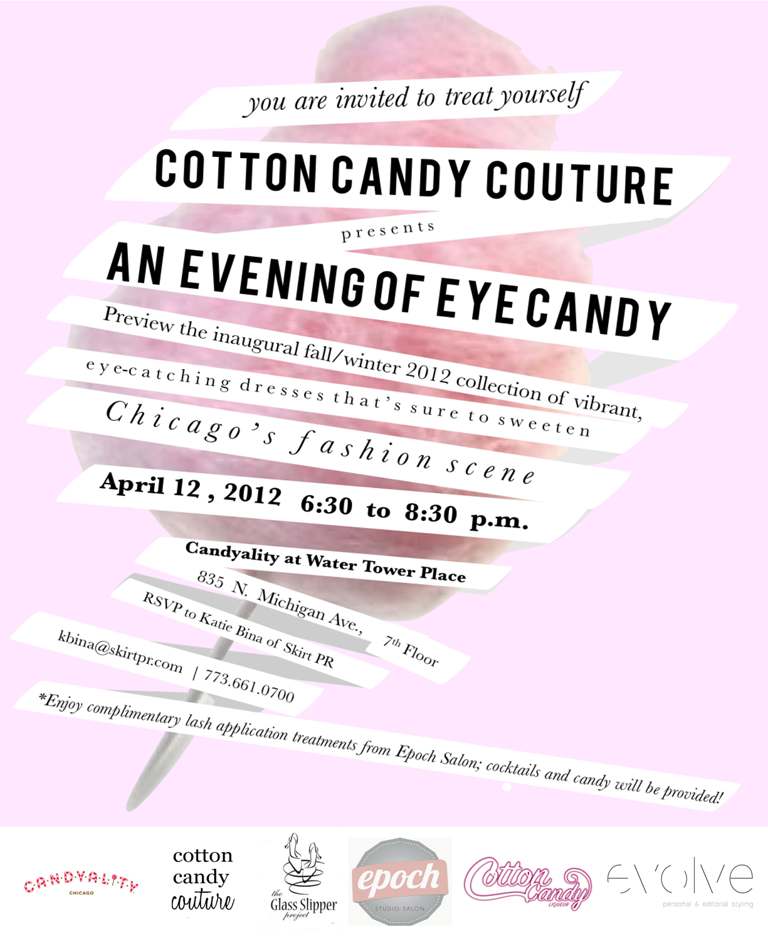 Indulge in an Evening of Eye Candy!
The newest addition to the Chicago fashion scene, Cotton Candy Couture, invites guests to preview its inaugural collection of cocktail dresses for Fall/Winter 2012.
On Thursday, April 12 from 6:30 to 8:30 p.m., Cotton Candy Couture will showcase its line of "chic sweets" at the newly opened Candyality in Water Tower Place with an evening of eye candy.  Guests are invited to preview the dresses (or discuss placement in their own boutique!) before they are officially released, while munching on candy treats and (you guessed it!) cotton candy flavored cocktails. Epoch Salon will also be on hand offering another eye-opening experience: temporary lash applications.
Attendees are encouraged to bring any dress or accessory (shoes or purse) that they deem prom-worthy to be donated to the Glass Slipper Project, a non-profit organization that gives away free prom dresses and accessories to high school juniors and seniors in the Chicagoland area. One lucky donor will win a complimentary re-design service from Cotton Candy Couture known as "Original Edit", in which the design team will re-work an old dress into a vibrant outfit, worth many a new wear.
For more information on Cotton Candy Couture or to RSVP, please contact Katelyn Koepke or Katie Bina of Skirt PR at (773) 661 – 0700 or
kkoepke@skirtpr.com/kbina@skirtpr.com.