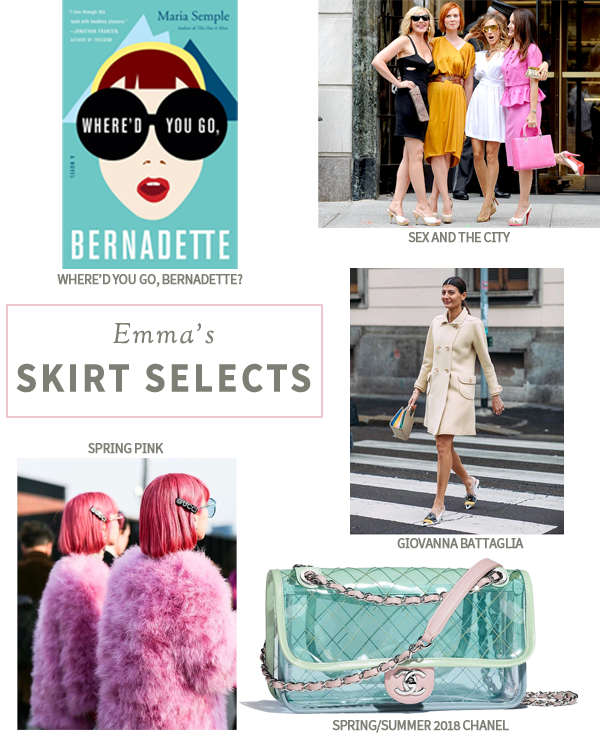 "Where'd You Go, Bernadette?"
I'm currently reading this novel from Maria Semple and I absolutely love it. The story revolves around a formerly-successful architect who moves to Seattle with her husband and completely loses her mind and fails to coexist with overbearing PTA moms. What makes this book so great is that it is humorous fiction told entirely through emails and completely pokes fun at hover moms.
Sex and the City
I know this is a total cliché, but I just started re-watching all the episodes and I'm equally as obsessed with this NYC foursome now as I was years ago. Truth be told, I mostly love it for the fashion moments and I am convinced that Carrie Bradshaw is the only person on the planet who nailed 90's fashion. I honestly would love to wear most of her outfits now.
@bat_gio
Giovanna Battaglia is a contributing editor at W Magazine and the Senior Fashion Editor at Vogue Japan. I am completely obsessed with her and her playful style. Her look is as fun and unique as she is, and her sense of humor radiates through every single Instagram post. She is unapologetically her, which is admirable, especially considering that she works in the fashion industry. I genuinely feel myself get excited when she posts a new outfit.
Spring Pink
I have never been a big fan of the color pink but it seems like every shade of this girly hue is having a moment right now, especially in with street style stars like Aya and Amiaya.
Spring/Summer 2018 Chanel
I can't remember a time I was ever not obsessing over Chanel, but particularly this bag from the Spring-Summer 2018 collection is everything to me. I mean I will let the bag speak for itself.