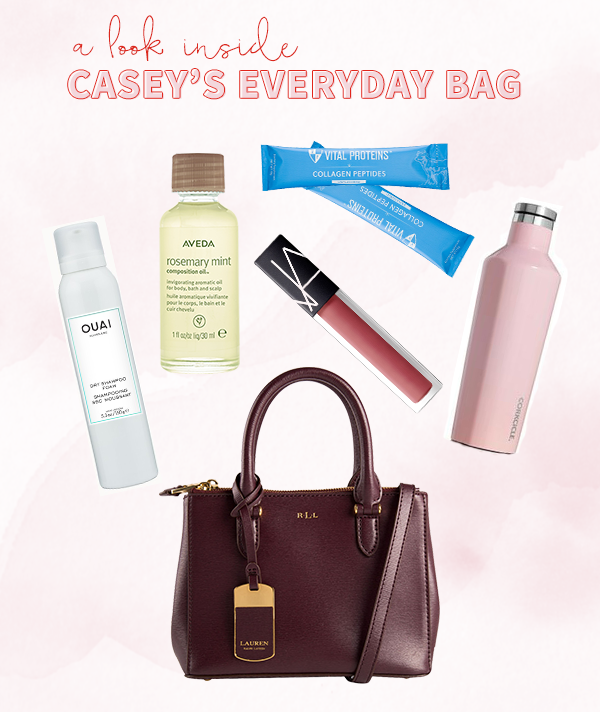 My bag is all about practical necessities, especially during the colder months. In addition to an extensive selection of lip balms, warm gloves and cozy hat, these are the items I can't leave home without.
Ouai Dry Shampoo Foam
I'm a huge fan of Jen Atkin and her brand, Ouai Haircare, is one of the most represented lines in my (overstocked) beauty collection. When they announced their new Dry Shampoo Foam, I immediately opened my Sephora app and placed an order. Two days later, I was in love. I've tried a range of dry shampoos over the years and this one beats them all; it not only erases oil and product build-up, but adds INSANE volume. I'm patiently waiting for the travel size version but until then, this has a permanent place in my purse for hat hair touch-ups.
NARS Velvet Lip Glide in Bound
This is the perfect product for anyone with dry lips who prefers matte finishes over a standard gloss. These are hydrating, longwearing and dry super-fast — the ideal combo! I love this neutral shade for both day and night.
Rose Quartz Corkcicle Canteen
Major alert: Hydration is essential. This stainless steel canteen keeps my water ice cold, whether I'm out running errands or posted up at my desk. Plus, it's the perfect shade of blush pink.
Aveda Rosemary Mint Composition Oil
I can't get enough of this calming oil! Dab a bit on your neck, wrists or temples for a quick fix when that midday headache hits.
Vital Proteins Collagen Peptides
My testy skin has gone from "oh, no…" to "yes, glow!" since I started adding 1-2 scoops of this into my morning smoothie. This powder offers a boost of collagen, which helps keep skin, hair and nails healthy — pretty great, right? I'm officially hooked and always make sure to carry extras for my coffee at the office. If I'm not a big enough celeb fan for you, Jennifer Aniston swears by it, too.
What are your winter must-haves?