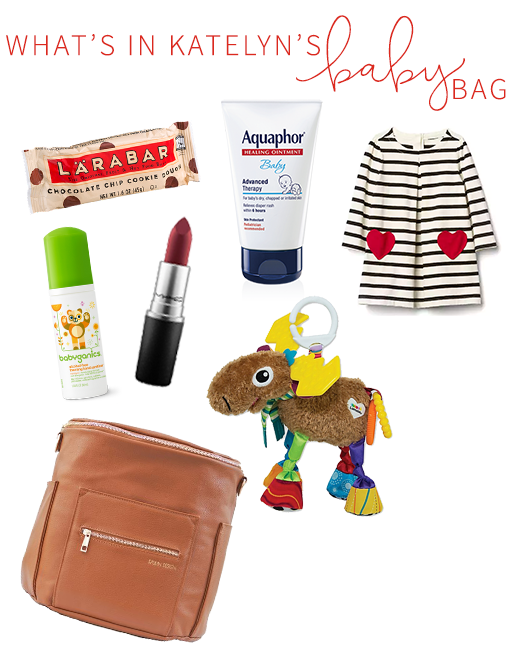 My handbag du jour these days? A diaper bag … and a backpack, no less. Motherhood has changed me in countless ways, and in some respects, it's hard not to think that my daughter has completely taken over my life (and my belongings). That said, I try to intersperse glimpses of myself amid the chaos that is her day-to-day necessities. Here is a VERY small sampling of what's overflowing out of my diaper bag.
Fawn Design diaper bag
After seeing various bloggers sport this on my Instagram feed, I decided to go for it. It's hands-down the chicest diaper bag I have found, and while I wish it was a little larger, the added cool factor the design has makes up for it.
Babyganics Hand Sanitizer
OK, hear me out: Even if you're not a mom, you need this. Pre-baby, I used to carry around a hand sanitizer I likely picked up from a 7-11 that reeked so potently of alcohol that I'm not sure how I ever used it. This Babyganics version is foamy (no awful sticky feeling) and free of alcohol (no terrible smell). Its extra gentle, plant-based formula won't dry out your hands. The best!
Chocolate Chip Cookie Dough Larabar
I'm a serial snacker, and if I've got my daughter with me, it's a toss-up as to whether or not I've personally had a solid meal in the last three hours. Larabars became a pantry staple while I was avoiding dairy and soy (they're vegan and soy-free!), and now I can't quit 'em.
MAC lipstick in "Diva"
I typically have about 10 lipsticks on me in my *normal* purse. Since the baby bag requires consolidation, I toss in one shade for an instant facelift when I'm on mom duty. Currently in rotation? A brooding Bordeaux from MAC.
Lamaze plush moose toy
My daughter loves a moose that we've named Matilda. This prized possession is saved for outings or car rides, and if I'm honest, is often snapped to a ring on the outside of my bag. #momlife
Baby Aquaphor
I'm an Aquaphor junkie, so it's not surprise my daughter is being raised to live that life. From a diaper cream to dry skin and scrapes, we use this for any skin situation she has. Plus, mama can put it to her 1,000 uses, too!
Baby Gap love stripe pleat dress
An outfit change is just as essential as diapers. (For inquiring minds: My diaper bag is usually stuffed with Honest or Pampers Swaddlers.) This is sitting in my shopping cart, and I can't wait to see C rock it.