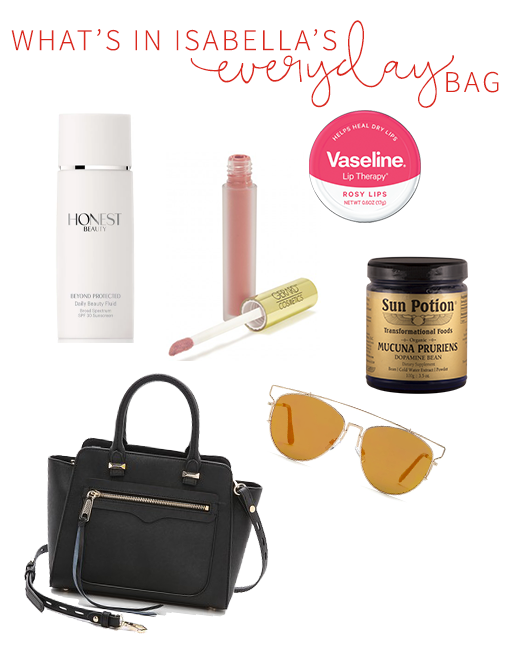 Every working girl on the go knows that it's important to have your bag stocked with plenty of essentials. Whether it's your favorite lipstick or a much-needed energy boost, you never know what the day will bring or where you'll end up, so I've curated my bag with products that will keep me going all day long.
Honest Beauty  Fluid
No matter how busy I am, I always make sure that I'm protecting myself from the sun.
Gerard Cosmetics Hydra-Matte Liquid Lipstick in "Serenity"
This beauty blogger-approved liquid lipstick is amazing. I love the whole collection, but Serenity is a great neutral for everyday wear.
Vaseline Rosy Lips Tin
Nothing's worse than having dry lips, so I keep a few of these adorable tins stashed away in my bags and on my desk!
Sun Potion Mucuna Pruriens Powder
Being a publicist results in lots of long days, so I keep my energy up with this magical mix.
Forever 21 Mirrored Aviator Sunglasses
Whether I'm hopping in a cab for a meeting or quickly darting out to grab lunch, a great pair of sunnies will tie your look together while keeping you covered.
What essentials do you always carry with you?
Bag: Rebecca Minkoff Mini Avery