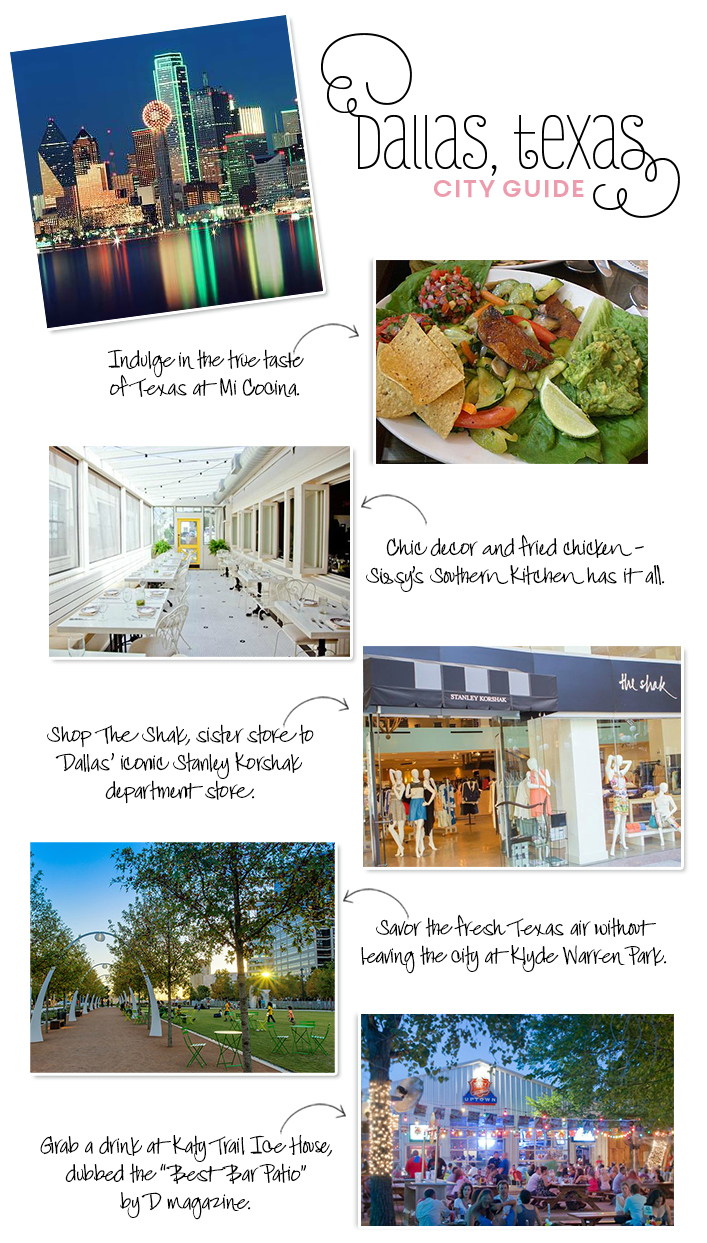 While they say that everything's bigger in Texas, I can't help but feel that when I return to my hometown city of Dallas, it's such somehow small after all. Perhaps that's because I find myself returning to the same ol' haunts (what can I say, I'm a creature of habit!). This Southern charmer of mine rose to prominence back in the day through oil and cotton and now continues to maintain notoriety through a cosmopolitan culture of shopping and dining. Here are my personal picks for ways to spend some time in the big D:
Mi Cocina
It may not be the most mind-blowing Tex-Mex you'll ever have, but by God, it's a Dallas INSTITUTION. Dig in to a heaping bowl of queso and drown your sorrows in the El Ray's entrée plate (cheese enchilada, beef taco, pork tamale, arroz y frijoles) – trust me, I've been doing it for 18 years.
Sissy's Southern Kitchen
If you're looking for some traditional Southern fare, I can't say enough amazing things about Sissy's Southern Kitchen. We hosted a fabulous group of Dallas bloggers there for an intimate evening with Birchbox last fall, and I can say for certain that no one was disappointed. From the adorable china the restaurant uses to the finger-lickin'-good fried chicken, this is a winner.
The Shak
Dallas' infamous department store Stanley Korshak has an incredible little sister called The Shak that is a must-visit. Having recently renovated with a serious makeover, the contemporary store boasts four mini-shops of greats like Elizabeth and James and Helmut Lang as well as designers you may not have heard of before. Definitely a stop to feed your shopping addiction.
Klyde Warren Park
I'm sad to say this was not yet in existence during my Dallas days, but this city park is all the rage now. Situated right smack in the middle of downtown, the urban oasis provides free programming ranging from yoga to outdoor concerts, as well as some delicious food trucks and restaurants you'll want to try. Since Dallas only hits colder temps for a few months out of the year, it's a beautiful space to take in the outdoors.
Katy Trail Ice House
Much like Mi Cocina, you can't visit Dallas proper without setting foot into another mainstay: the Katy Trail Ice House. Voted as the "Best Bar Patio" by D magazine, the casual Austin-style beer garden and restaurant is the place for young professionals to mingle throughout the weekend. Saddle up to the bar and kick back with a serious list of Texas drafts, including Lone Star, Shiner, and Jester King.