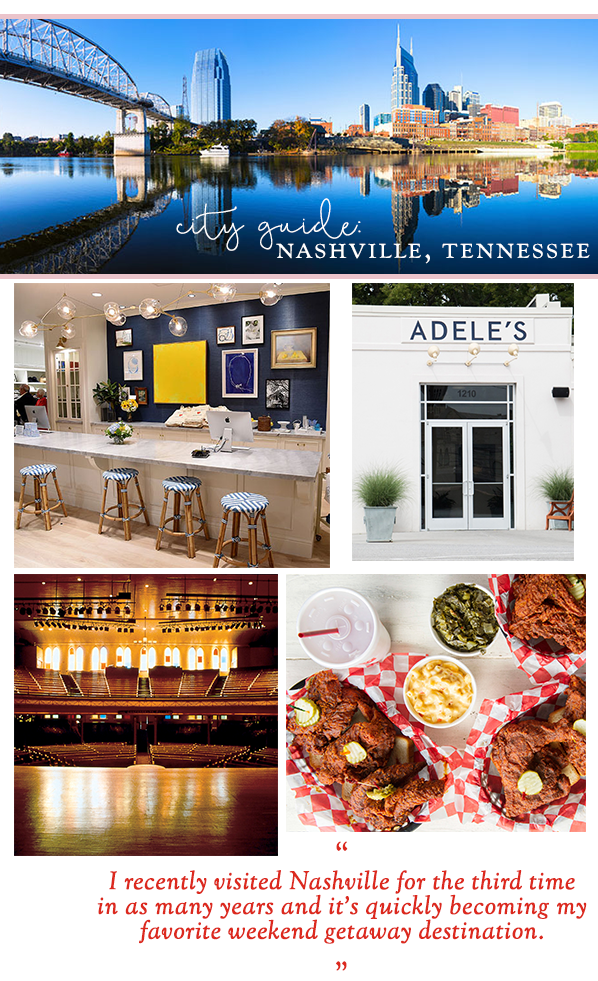 I recently visited Nashville for the third time in as many years and it's quickly becoming my favorite weekend getaway destination. It's a quick 45 minute flight from Chicago and in addition to an incredible music scene, there is delicious food, great shopping and so much history. Here are a few of my favorite things to do in Music City:
Shopping along 12 South
A newly bustling area of Nashville, 12 South is home to a slew of independent shops (and great restaurants). Be sure to check out the brand-new Draper James flagship boutique for preppy, pretty frocks and accessories (Reese Witherspoon is behind the brand) and block off a good hour to get lost in the amazing array of goods at White's Mercantile.
Dinner at Adele's
Located in the trendy Gulch neighborhood, Adele's is bright, airy and bustling – the perfect spot to see and be seen (without taking itself too seriously). The famous JW Chicken is not to be missed, and the ricotta bruschetta is melt-in-your-mouth yummy. There's a great outdoor patio for sipping wine and nibbling on bites if you come when the weather is right!
Take in a concert at The Historic Ryman Auditorium
Hands down, the best place in the city (maybe the country?) to take in live music. Originally built in the 1880s as a church, it has the most incredible acoustics and the intimate setting means there isn't a bad seat in the house. Those lucky enough to grace the same stage as greats like Johnny Cash and Patsy Cline don't take the opportunity for granted and sing their hearts out. Not to be missed!
Sunday brunch at Hattie B's Hot Chicken
After a late night out bar hopping on Broadway, nothing will taste better than the incredibly juicy and perfectly crispy hot fried chicken at Hattie B's. There's usually a line, so arrive with patience and an appetite in tow. I promise, it will be worth the wait. On Sundays, they offer up waffles as a side and they're not to be missed!
What's your favorite weekend getaway destination?