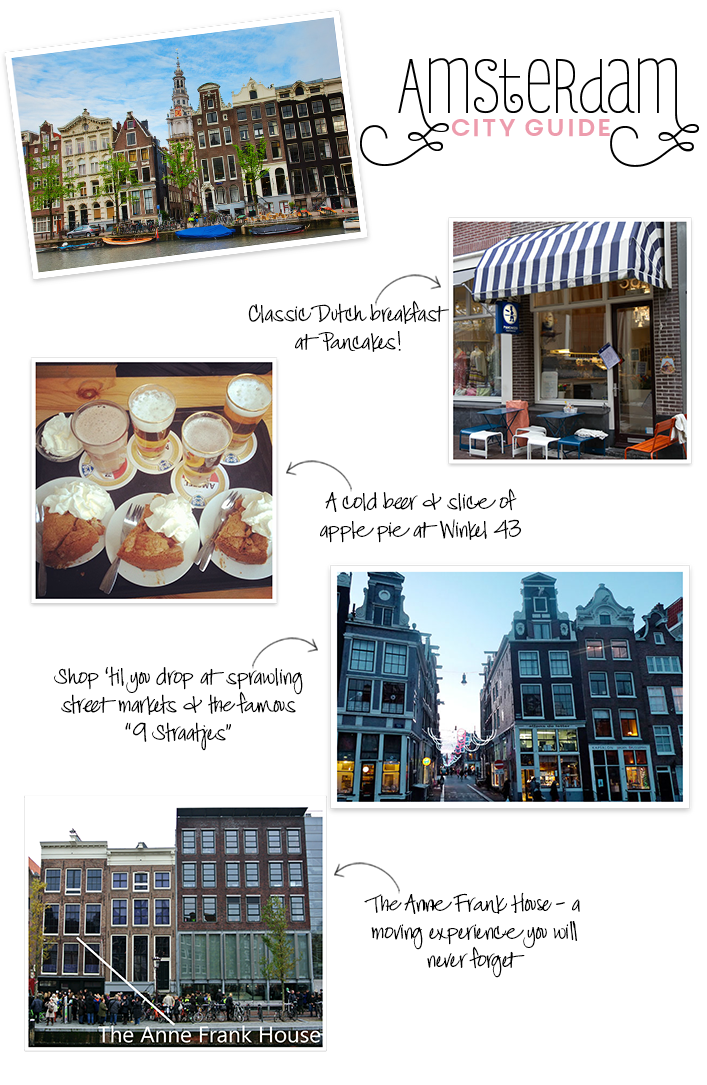 A recent European adventure with my family was chock-full of "pinch me" moments (I cannot confirm nor deny that I shed a tear upon seeing Big Ben…and the Eiffel Tower), but bike riding through Amsterdam may have been the most surreal. My brother is currently living in Amsterdam so we were treated to a quasi-Dutchman's tour and really experienced the city. The 165 canals, small bridges, and cobblestone streets make the large city seem small and storybook-esque. Here are a few of my favorite spots and top tips for a trip to Amsterdam, the Netherlands:
Pancakes!
What's in a name? For this adorable café: everything. The menu is packed with every flavor of Dutch pancake (also called pannenkoek, Dutch pancakes are much thinner than our fluffy Bisquick pancakes.) you can imagine. In true Amsterdam style, Pancakes! is housed in a narrow row house with only a few tables so prepare to wait – I promise it's worth it! In addition to the delicious 'cakes, you'll get to take home a sweet little souvenir – a tiny Dutch shoe.
Winkel 43
Serving up the most delicious, Instagram-worthy apple pie, this bustling establishment is an absolute must. Located in a neighborhood with lots of street markets, Winkel is the perfect place to grab a bite to eat and enjoy the welcoming atmosphere of Amsterdam.
Albert Cuyp Market
Open Monday through Saturday and select Sundays, this market has more than 300 stalls where vendors sell food, clothing, jewelry, and more. I picked up this sweater and a knit hat – success!
De 9 Straatjes (The 9 Streets)
Was it fate that my parents' hotel was just around the corner from the top shopping area in Amsterdam? What about that the handbag I purchased at a boutique is called the "Chicago" bag? Mhmm.
Anne Frank House
A highlight of the trip, I absolutely recommend adding the Anne Frank House to your bucket list. Walk up the narrow steps to the annex and step inside the pages of the diary known across the world. Take my advice and purchase your tickets ahead to avoid the lines that often wrap around the building. More than a museum, the converted row house opened in 1960 and welcomes more than one million visitors each year.