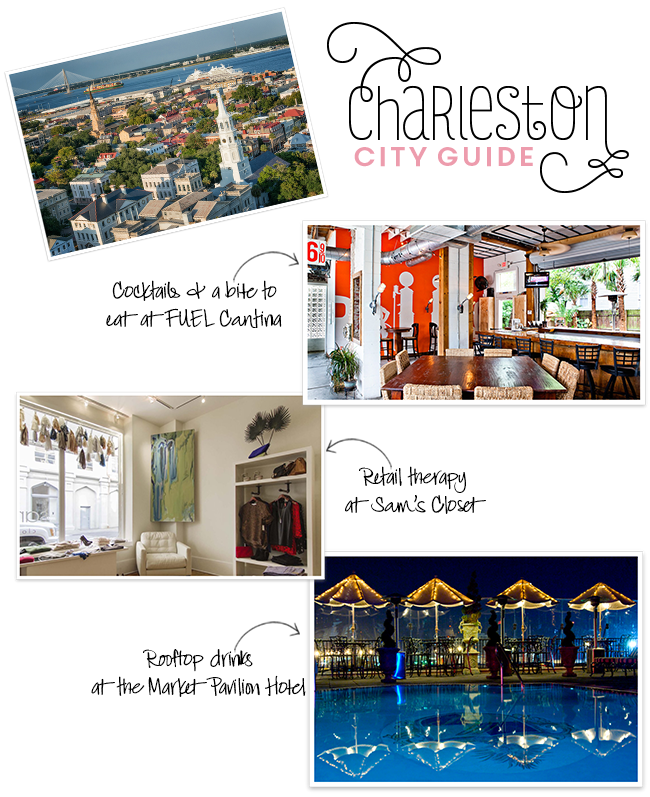 Charleston, South Carolina. The name alone is enough to set my heart aflutter. I lived in this spellbinding Southern city for four magical years and attended its charming university, the College of Charleston. During my time there, I'd like to say I became somewhat of a connoisseur of all things beautiful, fun, and delicious. From whimsical boutiques to the best restaurants in the Southeast, this small town is anything but sleepy. Here are some of my insider faves:
FUEL Cantina
If you are looking for a great patio hangout with flavorful food, this is it. Located just a stone's throw from rowdy upper King Street, this Caribbean cantina is sure to provide a great time. Sip on one of their famous "Pain Killer" cocktails or go classic with a "Cadillac Margarita" while you try your hand on their outdoor bocce court. Housed in a vintage gas station, FUEL is a summertime essential…and did I mention they have the best nachos in town (Roasted Chicken Nachos to be exact)?
Sam's Closet
In a city with a lot of shopping, this little boutique was always my go-to. With a mixture of bright silk dresses from Naven and staple shoes from Dolce Vita, Sam's Closet always gets it right. Whether you are shopping on a college girl's budget (check out their awesome sales!) or looking to invest on the perfect dress for those summer weddings, this boutique just off of the corner of King Street's shopping district is a one-stop shop for the perfect Charleston wardrobe.
The Rooftop Bar at the Market Pavilion Hotel
Want to enjoy a cocktail while taking in the best views in the city? Look no further than the Rooftop Bar at the Market Pavilion Hotel. This rooftop bar boasts a pool for perfecting your tan during the day and transitions into a hopping bar complete with DJ and breathtaking views at night. Indulge in a martini and take a seat next to the rail to get a glimpse of all of the Charleston sights, from the Ravenel Bridge to the Customs House. The Rooftop Bar at the Market Pavilion hotel is the place to be if you want a swanky atmosphere with a view.
You can take the girl outta the South, but you can't take the South outta the girl. What getaway is close to your heart?