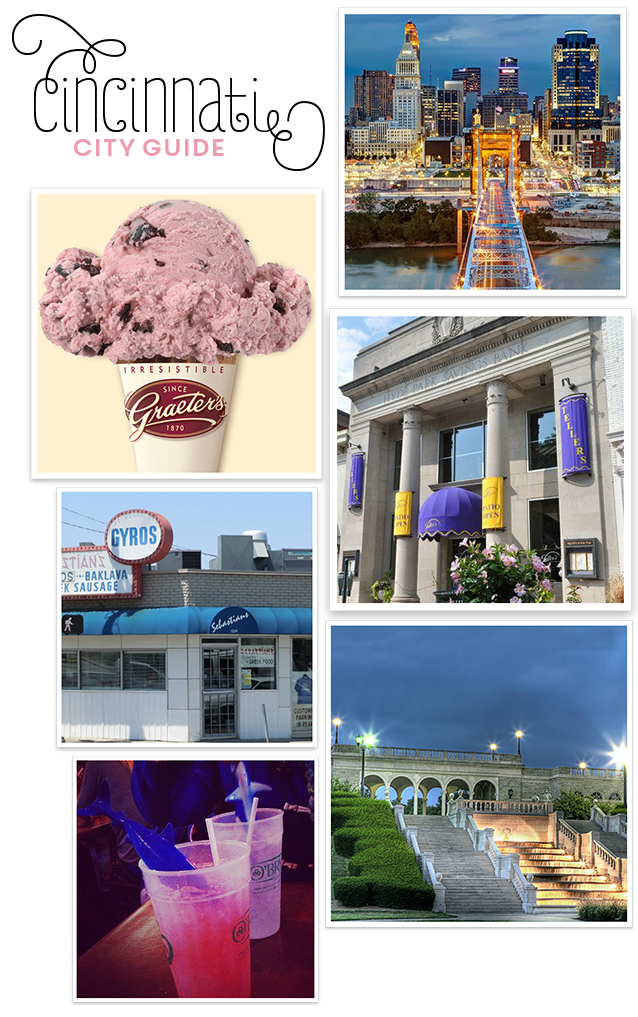 Having spent much of my high school career watching episode upon episode of The O.C. and Laguna Beach, when it came time to apply to colleges, I had my sights set on the west coast. I never expected to end up at Xavier, a small Jesuit university in Cincinnati, Ohio. But, like DMX says…X gonna give it to ya. From downtown Cincy (home of the Reds, Bengals and P&G) to charming neighborhoods in the hills, the 'Nati has tons to offer – here are a few of my favorites spots in the Queen City. #BowDown
Graeter's Ice Cream
How good is Graeter's ice cream? Well, Oprah used to have pints flown in from Cincinnati to Harpo Studios. Other fans include SJP, George Clooney, and yours truly. While a road trip to Cinci is always a good idea, you can get your fix at most Mariano's or Whole Foods in the Chicagoland area.
Teller's of Hyde Park
Housed in the historic Hyde Park Savings and Loan building, this is by far my favorite restaurant in Cincinnati. From dining in the vault with my parents to celebrating graduations on the upstairs terrace, Teller's is an icon of my college years. Everything on the menu is spectacular, but it would be a sin for me not to instruct you to order the Buffalo Chicken Eggrolls.
Sebastian's Gyros
Grab a booth, order a gyro (don't forget the sadziki sauce!) and enjoy the kitschy, friendly atmosphere. Sebastian's is a Cincinnati gem, known for its delicious "real Greek food" and the charming family who has owned the restaurant since 1976. Now, if only I could convince them to open a Chicago location…
Ault Park
One of Cincy's prettiest parks, this is the best place to get some fresh air and take in the underappreciated scenery of the city. Honestly, I'm pretty bummed Instagram hadn't reached its peak while I was still living in Cincinnati because this place needs #nofilter.
O'Bryon's
A summer afternoon is best spent at O'Bryon's sipping on a "Shark Tank" – a boozy drink complete with a toy shark filled with grenadine. If you love a good neighborhood pub, this one in O'Bryonville is tops.

For more Cincinnati recommendations, follow my friend Natalie's blog: CincinNatalie!