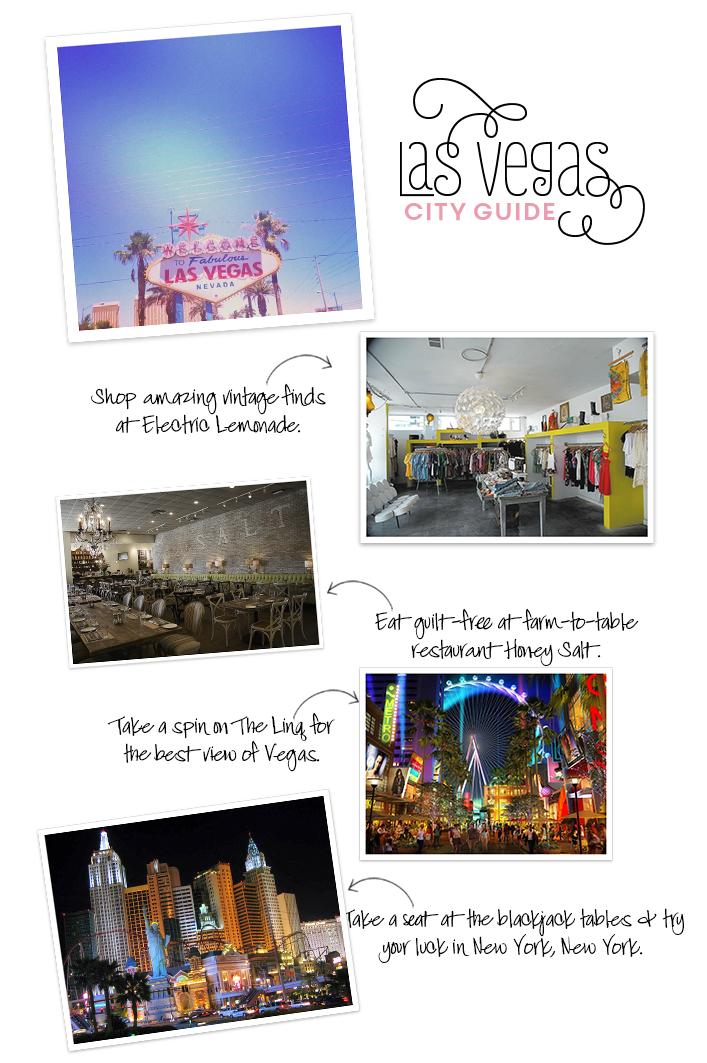 When I announced to the Skirt team that I was off to Vegas (a.k.a. Sin City) for two full weeks, there were a lot of questionable glances and fears for my safety. But, rest assured, people, my experience in the town of 24-hour wedding chapels is far from what you'd expect. My family summer home just happens to be in one of the most scandalous towns in the country, but my trip was full of shopping, amazing food, and incredible weather. Here's what I love most about Las Vegas:
Vintage Shopping at Electric Lemonade
What a surprise – I have another favorite vintage store! This hidden gem in the Design District is full of the most amazing goods, from rare concert tees to mint-condition maxi dresses. Proof of the treasure trove: We went twice in one week and were able to find incredible pieces both times.
Dinner at Honey Salt
My parents like to call me their personal "concierge" because of my talent of finding amazing restaurants off the beaten path. This cozy farm-to-table resto is tucked away in an average strip center in quiet Summerlin but the food, from kale mac & cheese to a cookie/brownie hybrid that almost made me die of happiness, is unbelieveable.
Exploring The City from The Linq
Having skipped last summer's yearly excursion, there were a few new sights on the strip this year. None were more exciting, however, than the brand new High Roller ferris wheel. How does Vegas do a typically kid-friendly carnival ride? With air-conditioned glass orbs, complete with a full bar, TVs, and standing room for up to 40 people. Just. Wow.
Blackjack at New York, New York
When you've been going to Vegas for as long as I have, you develop "favorites" for certain activities. For whatever rhyme or reason, my good luck charm has always been New York, New York. There are no businessmen in suits, or pretentious high rollers here – just me and my epic 21.
Camping at Old Mill Picnic Site
Okay, so the Farber family doesn't really "camp" per se, but we do love the crisp air and breathtaking mountains thousands of feet above the bustling strip. Give us some hot dogs (veggie for me, please!), a frisbee, and a few hours of walking, and you'd never know that we were "inside people."
What's your favorite unconventional vacation spot?