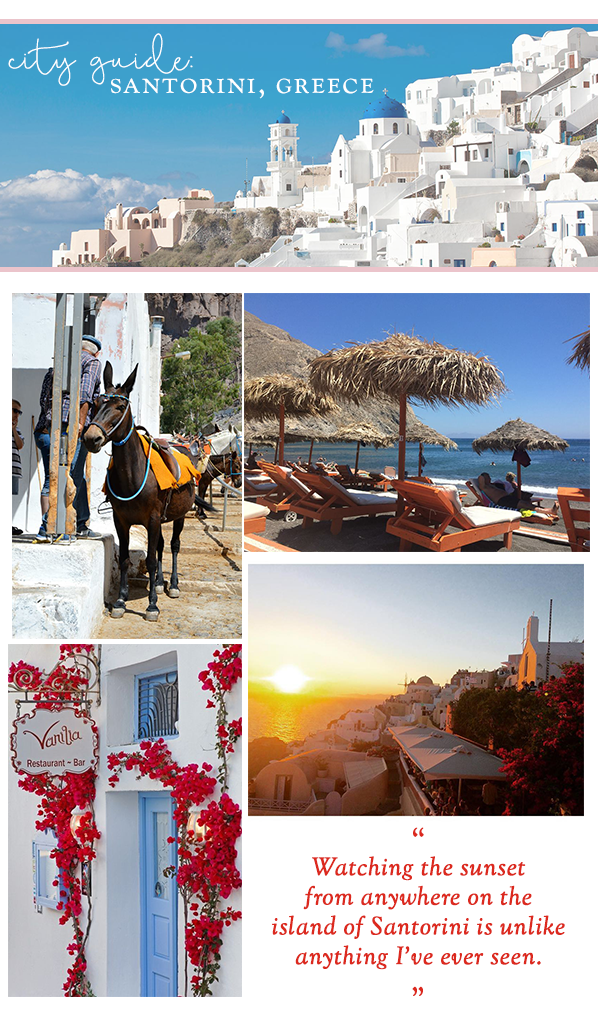 Greece has been number one on my bucket list for the longest time! My family's summer trip consisted of stops in London, Santorini and Mykonos. All very different, but if I could choose one place to visit again it would be Santorini. Although I was tempted to just lay by the hotel pool overlooking the ocean all day, there were so many amazing things to see. Here are a few of my favorite activities from my trip to Santorini.
Donkey Rides Up the Cliff
I might be lying when I say this was one of my favorite things from the trip, but it was absolutely something you need to experience. After being thrown on a donkey with no direction, you start the trek as your donkey races the others up the cliff. Don't worry; the ride only lasts about 20 minutes and you get some great views as you make your way up!
The Black Sand Beach
A quick 15 minute bus ride from Fira, a day at the black sand beach in Santorini is a must. Although it's a bit hot, the black sand is beautiful and there are plenty of comfy loungers with tiki umbrellas to rent for just 5 Euro. A variety of delicious Greek restaurants will bring everything from gyros to cocktails right to your beach chair.  You don't need much else other than a good book!
Sunsets in Oia
Watching the sunset from anywhere on the island of Santorini is unlike anything I've ever seen. However, if you aren't staying in Oia, it's worth a little trip to the north end of the island to watch the sun set. Be sure to head there early to get a good seat.
Vanilla Restaurant
We happened to stumble upon Vanilla Restaurant but it ended up being our favorite meal of the entire twelve day trip. They serve a variety of authentic Greek dishes such as Musaka, stuffed peppers and chicken souvlaki. We ended the meal with a chocolate mousse that was one of the best desserts I've ever had – that's saying something considering the sweet tooth I have!