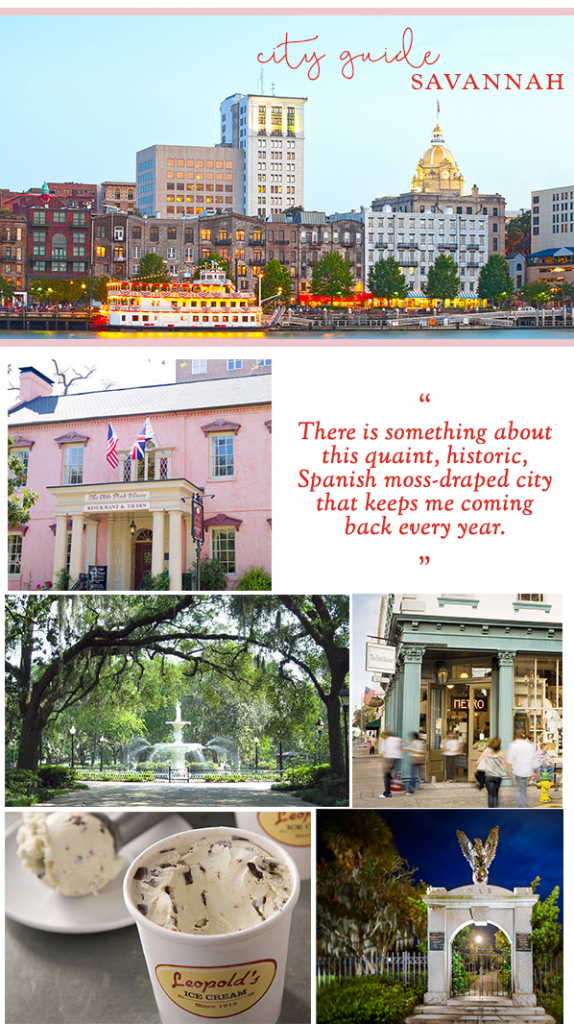 Traveling might be my favorite thing in the world – there is nothing more exciting than a new adventure in a new place. No matter how many cities I visit, Savannah, GA, will always hold a special place in my heart. There is something about this quaint, historic, Spanish moss-draped city that keeps me coming back every year. Here are a few of my Savannah favorites:
The Olde Pink House
You can't go to Savannah without dining at The Olde Pink House. It is an old, 18th century colonial mansion that has been turned into a gorgeous restaurant (I mean, it's pink, hello?!). If you're looking for a delicious traditional Southern meal with a great atmosphere, I highly recommend making a reservation.
Forsyth Park  
Savannah has many beautiful parks and squares, but Forsyth Park seriously takes the cake. It is so peaceful and quiet – the perfect place to sit and relax under the trees with a glass of wine (did I mention Savannah is open container?!) Occasionally they will have live music, which makes it even more amazing.
The Paris Market
If you were to merge all of my favorite things together and put them in a store, the result would be the Paris Market. From fun little trinkets and breathtaking interior pieces to macarons and lattes, this adorable little store has it all. I feel like I'm walking into a storybook every time I go there – it always has the most amazing visuals and décor!
Leopold's Ice Cream
The weather in Savannah can get hot. Really hot. Leopold's Ice Cream shop is the perfect way to cool down after a long day of exploring the city. Leopold's has been open since 1919 and makes all of its menu items from scratch. I swear it's my favorite treat in the world! Order a chocolate chewies and cream – you won't regret it!
Ghost Tours
OK, I know this sounds cheesy, but you absolutely must go on a walking ghost tour when you visit Savannah. I was doubtful at first, but it is incredible how much (spooky) history surrounds this city! I'm a bit of a history nut, so I find it so fascinating to learn what all of the buildings were used for in the 1800s. Trust me, they're so fun. But be warned: These tours will further confirm that Savannah is in fact the most haunted city in the United States!
Have you ever visited Savannah? I'd love to hear some of your favorite spots!