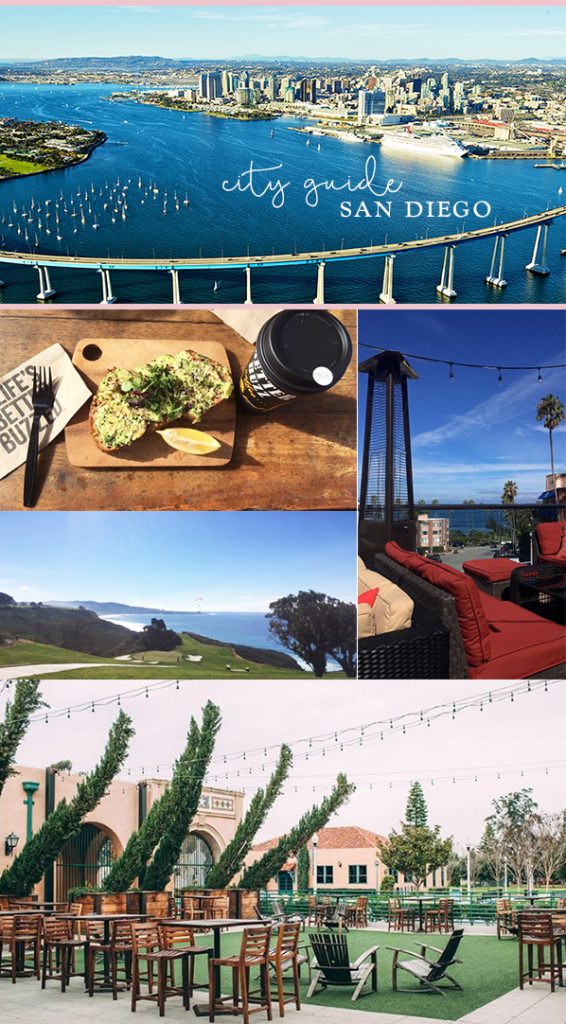 I headed out west a few weeks ago for my cousin's wedding. It was my first time to San Diego, so I was excited to try out new restaurants and wander around the city. We stayed at Humphrey's Half Moon Inn which was perfect since the wedding was on site … an easy walk to bed from the dance floor.
I visited Better Buzz Coffee twice while on our trip. Their avocado toast and acai bowls were AMAZING. The Vanilla Bean Latte was the perfect pick-me-up after a few late nights of family gatherings.
My aunt and uncle hosted a welcome party at Stone Brewing Company after the rehearsal dinner. The private outdoor space had a great vibe and room to play giant Jenga and Cornhole!
We didn't do much sightseeing per se but we did do the tour of the USS Midway. The men in my family could have spent the whole weekend there. It was really cool to see the history and explore such a massive ship!
My husband and brother played two rounds of golf at Torrey Pines. I opted for yoga led by a wedding guest and lounging by the pool!  We did make a stop at the course to grab a few items at the golf shop so I was able to catch a glimpse of the course. The views were AMAZING!
We met up with the rest of the wedding guests on Super Bowl Sunday for a hosted party. Before we went to the party at La Jolla Rooftop, we walked down to the sea lions on the rocks. La Jolla is a cute area with lots of shops and restaurants. A few other restaurants we dined at were San Diego Yacht Club, Mitch's, and Coasterra. All were delicious and highly recommended!