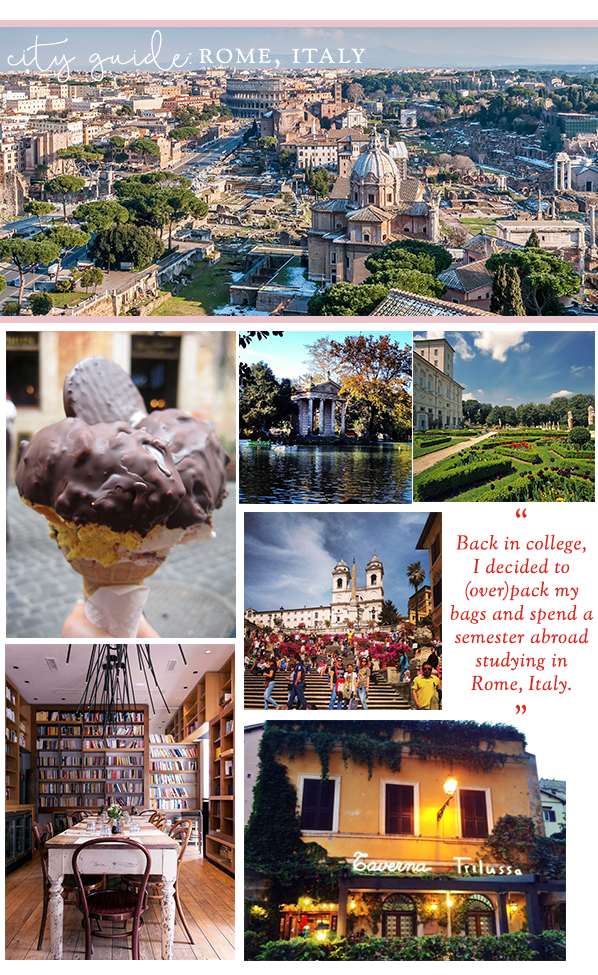 Back in college, I decided to (over)pack my bags and spend a semester abroad studying in Rome, Italy. The historic city with its beautiful, and often-times confusing, winding streets and hole-in-the wall gems, will always hold a special place in my heart. After "living Italian" for five months, below are a few of my must-try spots for those planning a trip to the "Eternal City".
Frigidarium Gelato
As you can probably imagine, eating gelato is basically a daily past time when living in Rome. Of all of the gelato shops that I tried, Frigidarium, was by far my favorite. Each flavor was better than the next, and you had the option to dip your gelato in dark chocolate (which I obviously always did). Let's just say I should have won most loyal customer five months running.
Villa Borghese Gardens
If looking for the perfect way to spend a lazy Sunday outside, look no further than Villa Borghese. The vast span of land houses beautiful gardens, historic galleries and various paths each leading to a new and interesting place and prime views of the city. It was my favorite place to take visitors, go for walk, or rent a paddleboat for weekend adventures.
Settembrini Café
I was extremely lucky, and lived in an apartment directly next to one of Rome's trendiest cafés. Unlike many of the restaurants in the city, Settembrini has a super chic, modern feel. The café also has a romantic outdoor seating area, always packed with Rome's most stylish. My suggestion: Tie up your biggest scarf, put your hair in topknot and stop by for a drink, as they're known for their mixologist!
Via Del Corso/ Via Condotti
These are two of Rome's most iconic shopping streets, and the surrounding area to the Spanish Steps. If in the mood for a European splurge, this area houses designer stores like Salvatore Ferragamo, Oscar De La Renta and Gucci. Even the window shopping is worth the trip!
Taverna Trilussa
Okay, let's talk pasta. If I could eat one food the rest of my life, it would easily be a plate of homemade pasta. So when I first tried Taverna Trillusa, a restaurant known for their award-winning pasta located in the Trastevere neighborhood of Rome, I felt like I had died and gone to carb-heaven. It was easily the best pasta I've ever had and has been my top food recommendation in Rome ever since.