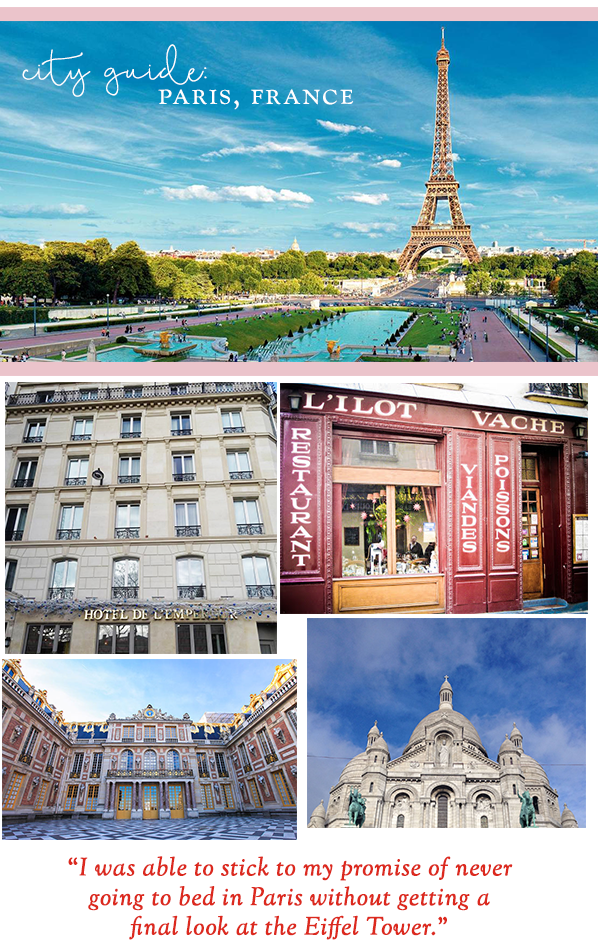 I have had an affinity for all things French since the first time I saw the Olsen twins' "Passport to Paris," and while I never quite picked up the language despite many years of French class, I was thrilled to finally visit the City of Light a couple of years ago. As we did in Amsterdam, my family and I explored all that this iconic metropolis has to offer. In addition to the Eiffel Tower, Arc de Triomphe (I promise, it's worth climbing the stairs to the top!) and of course, wandering the Champs-Elysées, here are a few of the many gems we visited.
Hotel Empereur
The cutest little hotel ever! The elevator is about this [] big but the decor is so Marie Antoinette. The biggest surprise was the bathroom – it was amazing! It's right near Rue Cler which is a super cute little street where you can get crepes, sit outside and drink wine, and feel Parisian. The location was also great because I was able to stick to my promise of never going to bed in Paris without getting a final look at the Eiffel Tower.
L'Ilot Vache
Probably one of the best meals I've ever had. It's on the island behind Notre-Dame and even on a cold, rainy night it was a beautiful walk. I tried escargot here for the first time so it will always hold a special place in my heart.
Palace Versailles
Because of its distance from the heart of the city, we had a few people try to talk us out of going to Versailles. Luckily we didn't listen! Since it was December, we were only allowed to tour the inside (the Hall of Mirrors is unreal), and it was still one of the most amazing parts of the trip. I definitely want to make it back in the spring to experience the gardens.
Montmartre
We spent Christmas morning browsing the outdoor market surrounding Sacré-Cœur while sipping on mimosas and hot cocoa. The view from this point in Paris was enough to leave me speechless! That said, I was able to find the words to purchase a charming painting of the Eiffel Tower and macarons from one of the many artists at work in this bustling neighborhood.
Have you ever visited Paris?