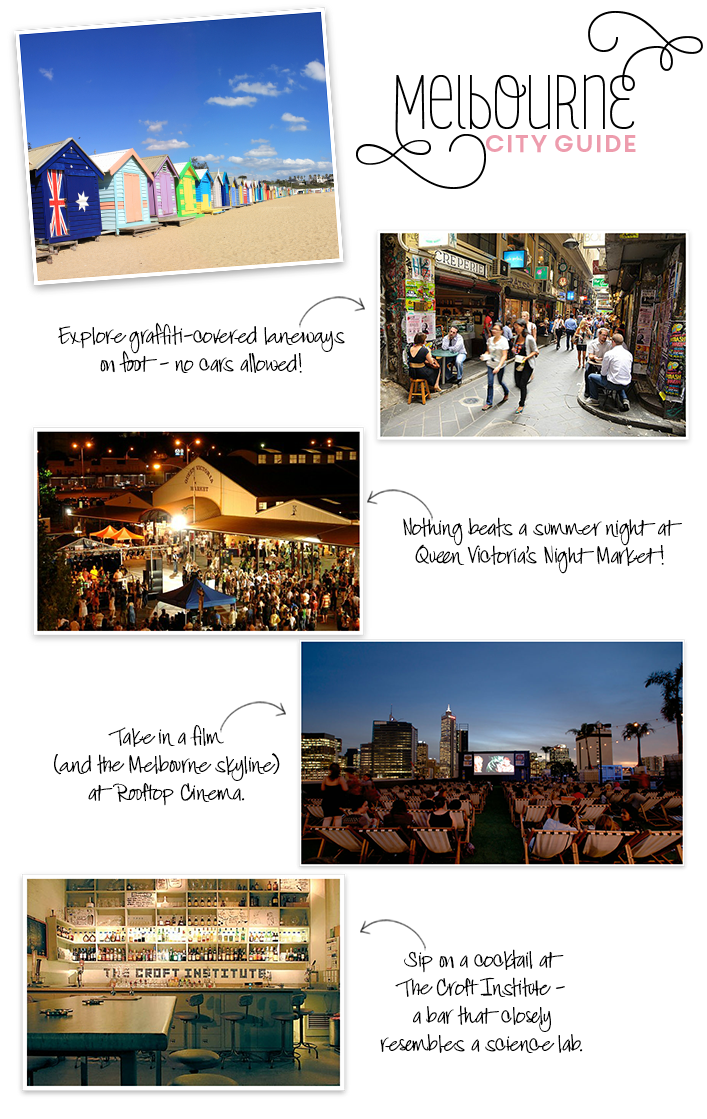 Australia is a great place to visit anytime, but it is absolutely incredible place to visit during the summer. And by summer, I mean their summer (December-February) when the Northern Hemisphere is suffering through winter's bleakest months. I recently popped down to Melbourne to attend a spectacular wedding, and wanted to share a few of my favorite finds from the capital of Victoria:
Laneways
Melbourne is known for its laneways: a seemingly endless maze of narrow alleys that cut through the city's CBD (Central Business District). Once used for horses and carts, today the narrow paths only allow exploration a pied – ideal transportation for exploring the charming cafes, unique boutiques and cozy bars hidden among the twists and turns. Yet, what make the Melbourne laneways truly incredible are the stunning graffiti-style murals that cover almost every inch of the concrete walls and offer exciting new imagery with every turn.
Queen Victoria Night Market
The Queen Victoria Market is a historic marketplace sprawling across two bustling, vibrant city blocks in downtown Melbourne. While the Market is open every day, during the summer months visitors can enjoy the Night Market every Wednesday night. Set beneath a starry sky, the summer tradition invites people to explore local handmade jewelry, fun fashion, interesting souvenirs, live performances and much, much more. To sweeten the experience, the mid-week fun features an incredible array of delicacies from around the globe, making the hardest thing deciding what to try first!
Rooftop Cinema
With 360-degree views of Melbourne's striking skyline, Rooftop Cinema allows you to experience your favorite movies from a totally new vantage point (quite literally). Nightly, the (aptly named) Rooftop Bar transforms into an outdoor theatre where rows of lawn chairs provide a comfortably casual viewing experience set to a sparkling cityscape.
Croft Institute
Somewhere among Melbourne's ever winding laneways lays Croft Institute, a hidden cocktail lounge unlike anything I've ever experienced. The multi-level bar is designed to look like a science laboratory, equipped with beakers, test tubes and drinks served in oversized syringes. While the second and third floors feel slightly more ominous, the first floor pays homage to a high school science class, but in lieu of chemicals and vials the shelves are stocked with an impressive assortment of liquor. The venue's eerie mad scientist décor and delicious cocktails is definitely not something to miss!