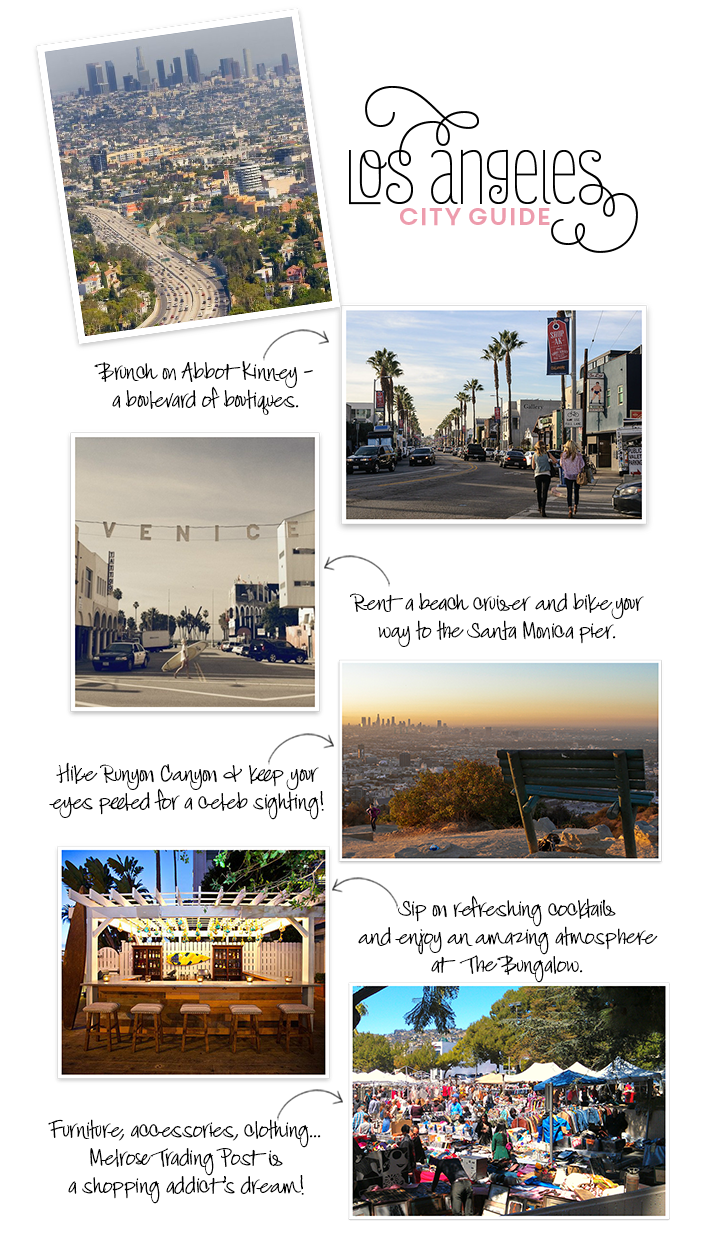 So…up until recently I thought that L.A. was completely overhyped. Why? Because I'd never been there before! A few weeks back, I headed to the West Coast for some much needed girl time with two of my very best college friends who moved out there after graduation. I fell head over heels in love with all of the amazing people, street art, and the overall laid-back and inspiring vibe of the city. If you're heading to La-La Land in the near future, read on for my favorite spots!
Brunch and shopping  on Abbot Kinney
Abbot Kinney is by far my favorite stretch of L.A. I'm telling you, it's where all the cool people hang out.  You'll find amazing coffee and juice shops, restaurants, shopping and more. Head to my brunch spot of choice, Gjelina (Jay-Z & Bey are supposedly fans as well) for some fresh veggies or a wood-fired pizza and glass of champagne to cure your sins of the night before. Then hit the shops up and down the palm tree-lined boulevard. You'll find everything from affordable costume jewelry to Kenzo and Marni dresses at Satine.
Biking from Venice Beach to Santa Monica pier
If it's not too hot out, rent a bike for $6 in the grungy, hip Venice Beach. Take your beach cruiser along the bike path, past Muscle Beach, all the way to the Santa Monica pier! It's not a long ride at all, but the people-watching is some of the best in all of L.A.!
Hike Runyon Canyon
You know how you always see those photos in tabloids of Cameron Diaz or Nicole Richie walking their dog and hiking? Well, I didn't see anyone famous on my hike, but the view was pretty breathtaking (literally). Get your cardio in during your trip and take in the lay of the land from above.
The Bungalow Santa Monica
Imagine if you grew up in Santa Monica, and your parents had an amazing beachfront bungalow where they let you throw parties during your summers home from college. That is what The Bungalow is reminiscent of. Each room of the beach house has a different vibe, from a cozy fireplace, to a long dining table, to cushy outdoor couches and more. This is the perfect place to catch up with your friends and indulge in some summery cocktails.
Melrose Trading Post
If only I had endless dollars and space in my suitcase! I could have spent an entire day picking out furniture, chandeliers, jewelry and vintage clothing in this haven. My favorite purchase was an amazing kimono from the brand, Phraseology. I can't wait to pair it with cutoff jean shorts and sandals this summer!
 What are your favorite Los Angeles spots?