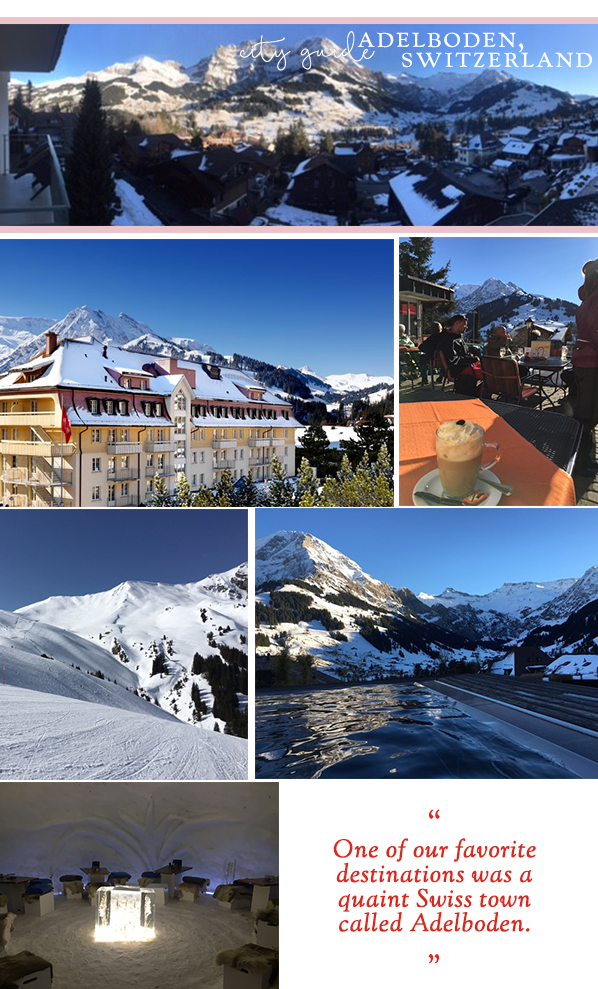 Deciding on where to go on your honeymoon? Skip the ocean and head to Adelboden! My husband and I just returned from our (delayed) honeymoon, and it was definitely one for the books. We visited four cities in three different countries. We booked all of our hotels through Mr. and Mrs. Smith and could not have asked for better accommodations. If you are indecisive as I am, they have outstanding suggestions! One of our favorite destinations was a quaint Swiss town called Adelboden.
The Cambrian Adelboden made us feel right at home from the moment we arrived. The concierge was amazing and very accommodating. Not to mention their spa, restaurant, décor and especially their outdoor pool were all perfection!
Snow Skiing: To fulfill our yearly snow ski itch, we figured we would cross over the pond and see what it's like to ski in the Swiss Alps. If you haven't skied in Switzerland yet, I highly suggest adding it to your bucket list. Their skiing is unlike any other and the views are incredible!
After a long day of hitting the slopes, we stopped for a Hot Toddy at Adler Adelboden. A perfect way to soak up a little sun and mingle with the locals. This was the warmest day we had the whole time we were in Europe. Go figure!
Fondue-Iglu. If only I could eat the way I did on my honeymoon every day…pastries, cheese, bread, chocolate… Our favorite and most unique meal was having fondue in an igloo, Swiss style. The igloo could seat up to 200 people! Our gondola up to the igloo was beautiful but definitely high. Those who fear heights, beware.
Where is your dream honeymoon?