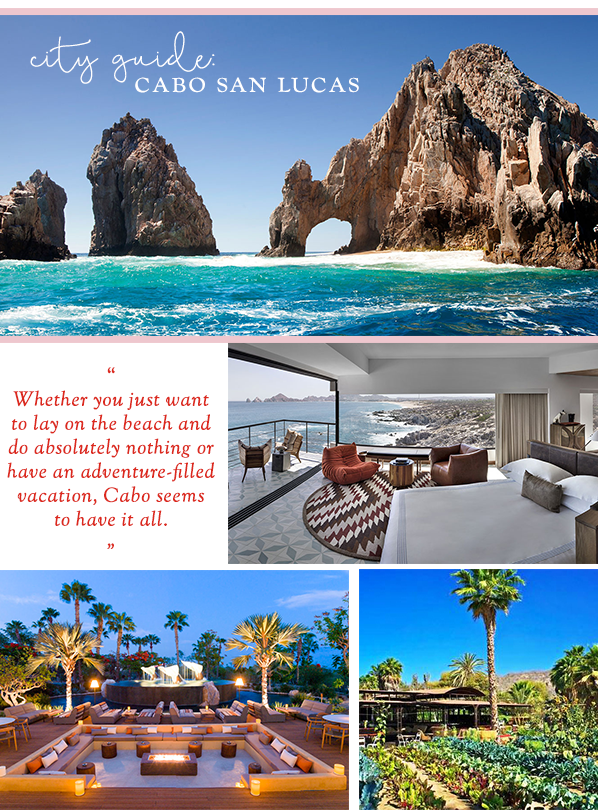 With an easy direct flight from Chicago, Cabo tends to be my go-to warm weather spot when fleeing our brutal winters. Whether you just want to lay on the beach and do absolutely nothing or have an adventure-filled vacation, Cabo seems to have it all.
STAY: The Cape, A Thompson Hotel
The newly opened Thompson hotel in Cabo is the perfect place to stay. The design is impeccable and every room in the hotel is facing the water, so you definitely won't be disappointed with a bad view.
EAT: Toro Latin Kitchen & Bar
The chef behind Toro Latin Kitchen & Bar, Richard Sandoval, has restaurants all over the world, including a few right here in Chicago. The setting of the restaurant is beautiful and the tomato watermelon salad with burrata, along with the grilled avocado are must-haves.
EXPLORE: Flora Farms
Every time I've plan a trip to Cabo, I call at least a month in advance to try to get into Flora Farms, and every time I hear the news that it's booked, so be sure to make reservations way before your trip. With farm tours, restaurants and a farmers market, it seems like the perfect place to spend the day!
Where is your favorite seaside getaway?