The holidays are upon us. It's time to turn up the glam factor with bright and shimmering holiday colors for gatherings with friends, cocktail hours and holiday parties.
But besides just looking fantastic, we have other motives.  Like the giddy stroll through the razzle dazzle cosmetics counters during the holidays. The new and exciting palettes, sparkly sets and other little novelties often are sold in brilliant bundles for better deals, come with cool extras and are (most of the time) special edition. Don't even get us started on the adorable snowflake-adorned packaging. It's all just so hard to resist! 
Here are our seasonal picks for Holiday 2011: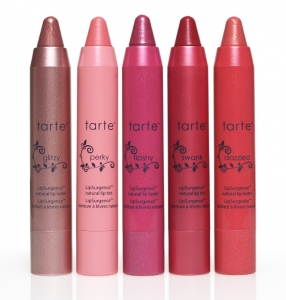 Adrienne
I live by Tarte's lip service and have recently purchased the Limited Edition LipSurgence collection. It is perfect for any and every occasion and the shades work with any outfit or makeup I have on for the day.
Lauren
This handy and oh-so-pretty Beautiful Expressions Kabuki Set  from our client EcoTools has all the brushes I need to freshen up and create a variety of different looks on the go. With four brushes that each serve a different purpose (conceal, bronze, contour and buff) I'm totally covered and can go from polished and pretty for work, to something a bit more bronze-y and contoured for evening holiday events! Plus, the patterns are super cute and I'm a sucker for a good kabuki.
Katelyn
A beauty staple for me is a sultry, smoky eye, and holiday is no exception. I'm eyeing this Black Ruby Sparkle Eye Palette from the queen of blendable beauty, Bobbi Brown. These smoldering jewel tones complement a green-eyed girl, and the subtle shimmer gives it a little seasonal razzle dazzle.
And I can't discuss holiday beauty without mentioning the long-awaited Tom Ford line. I'm itching to try his lipstick, and this Cherry Lush shade seems like a show-stopper.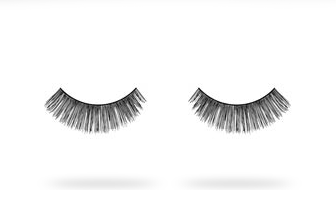 Caryn
Lashes really can be a girl's best friend. If you've bought a new dress and new jewelry for the holiday, then make Walgreen's the last stop on your trip. Skip out on the Egg Nog and spend the $4.99 on Ardell 101 falsies instead. For a look that screams seasonal spirit, you'll want eyelashes that are shorter towards the center of the face and then longer on the ends. For me, going out without eyelashes is like waking up from that "naked in public" nightmare – it's just plain scary.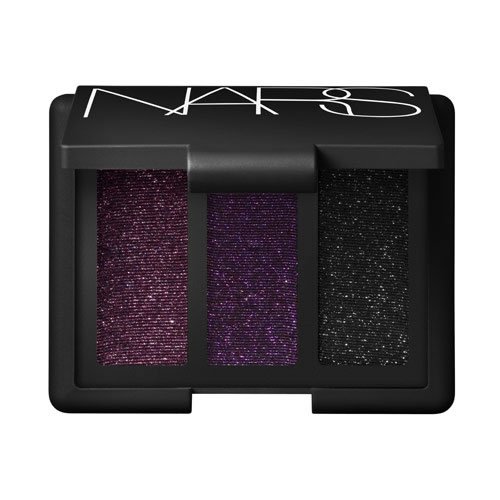 Katie
I'm a sucker for a great smoldering eye, so this year I'm obsessed with the Nars Holiday 2011 collection, especially this eye shadow trio in Arabian Nights.  I think purple colored eye shadows looks good on any eye color and the added bit of sparkle is perfect for the holidays.
I'm usually all about the black eyeliner, but for the holidays I also love switching it up and lining eyes with this eyeliner in St. Marks Place- a bright violet makes eyes really pop!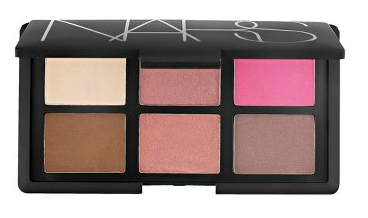 Lindsay
This Nars Danmari All About Cheeks Palette  is so genius! Who can ever get through a full blush compact anyway? I always feel so guilty about wanting different colors if I haven't even made a dent in my old blush (especially since it feels like it takes me years to get through them!), so I love that NARS came up with the perfect solution. Not to mention, this palette is also ideal for contouring and highlighting.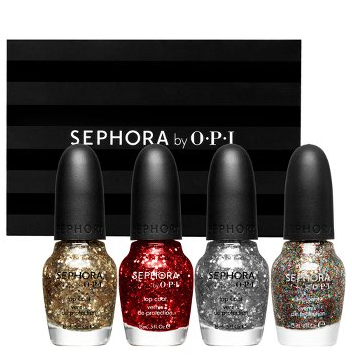 Christine
What better way to dress up a holiday outfit than with a sparkly manicure? This Four Piece Full-Size Nail Polish Set from Sephora by OPI comes with the perfect festive shades to wear separately or all at once. The names of the polishes are just as good as the colors – Only Gold for Me, Be-Claus I Said So, Are You Glistenin'?, and Sparktacular. I own more nail polish than is normal, but I don't think I'll be able to resist purchasing this next time I'm at the mall, either for myself or as a gift. This set would make a great gift or stocking stuffer!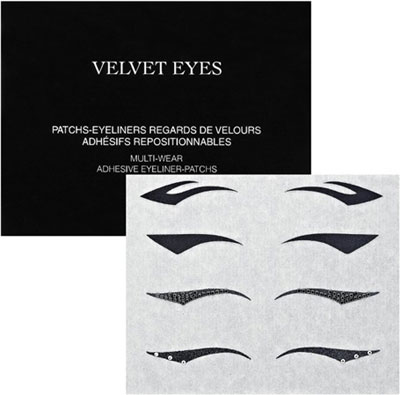 Claire
I don't think there is anything I love more than dramatic eyeliner. Eyeliner. Way, way too much eyeliner. Cat eyeliner. Smudged eyeliner. Liquid. Pencil. Powder. And now: stickers! Christian Dior, the magician he is, has released reusable Velvet Eyes Stick-On Eyeliner Patches made of velvet, that you simply apply like false eyelashes. They'll bring the drama even more than your crazy, intoxicated relatives.