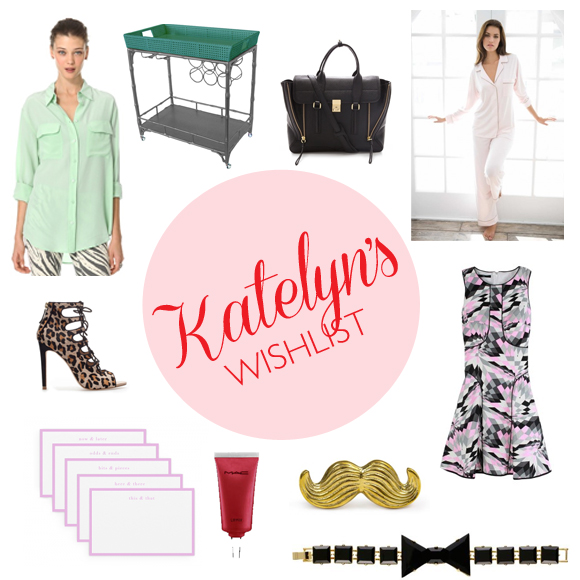 We can't be the only ones who love seeing what items other people are lusting over, right? Today, creative director Katelyn Koepke Lewis gives us a glimpse of ten items that are currently on her wishlist:
1. Society Social Madison Mixer: For months, I have been searching for the bar cart to trump all bar carts. Let's just say I am stalking this site until this baby pops back in stock.
2. Eberjey Gisele PJ Set: It's a mission of mine to upgrade my PJ portfolio; these are irresistibly soft!
3. Jonathan Adler Mr. & Mrs. Muse Brass Place Card Holders: I would throw a party solely to show off these brass beauties.
4. Kate Spade Black Tie Optional Bracelet: Kate Spade. Bows. Done.
5. russell + hazel Quips+Queries Cards: Since returning to Skirt, I've become secretly (now, openly) obsessed with desk supplies. These perky pink cards make jotting down notes much more exciting!
6. Equipment Signature Blouse: I fear my closet is overflowing with too many silk buttoned blouses, but this is just mint to be (couldn't resist…)
7. Tibi Isosceles Sleeveless Dress: If I wasn't craving spring badly enough already, this graphic pastel sheath seals the deal. (And let's talk about Tibi's serious comeback these days!)
8. 3.1 Phillip Lim Pashli Satchel: I can 100% guarantee this will be on every list I compile until it somehow finds its way into my possession. (I hope my husband or Phillip Lim is reading this.)
9. Zara Leopard Print Ankle Boot Sandal: This is quite the unexpected pick for my generally prepster (read: "I could singlehandedly keep J.Crew in business") style—to be honest, I'm still on the fence, but there's something about their don't-mess-with-me attitude that I'm digging…
10. M.A.C. LIPMIX in Crimson: For as often as I gobble up M.A.C. lip products, it's shocking I haven't tried the Lipmix yet. An opaque cream base to customize any color? Genius.
What's on your current wishlist?
XO,
Katelyn