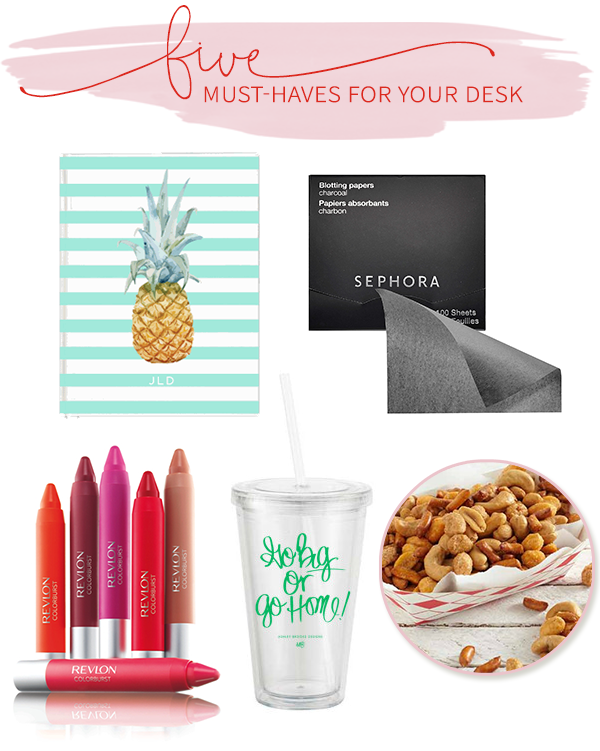 Considering most of us spend the majority of our lives at a desk (scary!), it quickly becomes a personal habitat. As such, I'm made a point to ensure it's outfitted with a few of my most important necessities.
A notebook you want to write in: I'm a self-proclaimed paper junkie, a fact that's evident by the abundance of paper goods on my desk. At the top of the list is a selection of playful notebooks. Minnie & Emma knocks these out of the park. I'm a personal fan of the banana leaves spiral notebook (hello, you can monogram it!) but I also love this striped version and this cute "Hello" notepad.
Blotting papers for time-sensitive touch-ups: Whether it's simply a hot day or you're stressed, oil can often appear as a not-so-fun addition to your 9-to-5 line-up. I opt for a charcoal sheet like the boscia Black Charcoal Blotting Linens but am also a fan of Sephora's line (this one is rose-scented!).
A cheeky tumbler: If you haven't heard, hydration is key. In order to be sure I'm consuming my 64 ounces a day, I rely on this Ashley Brooke Designs tumbler, a recent gift to our Skirt team. Plus, it also reminds me to stay in it to win it!
A versatile lipstick: Sometimes I go all out with color, but other days, I just need something simple and reliable. I always have a variety of lip shades in stock, but a go-to is a rosy pink chubby stick. Try Revlon ColorBurst Matte Balm in "Elusive."
A serious snack stash: My husband famously makes fun of my constant need to eat (you don't want to experience my h-anger). Because of this, my desk is stocked with snacks. A subscription service like NatureBox maintains my snacking habit with ease with a monthly subscription of tasty and nutritious eats. A few favorites are Honey BBQ Crunch, Jalapeno Cashews, and Asiago & Cheddar Cheese Crisps.
What will you always find at your desk?