As Skirt's Social Media & Creative Associate, I spend a lot of time creating custom graphics for our clients. These projects range from branded quotes for Instagram to event invitations and signage – I've even designed custom stickers! While many brands come to Skirt with strict design guidelines, I am able to play around a bit with others – this has only increased my obsession with finding the perfect fonts. While I could (embarrassingly) go on about typefaces for hours, I'm sharing my top favorites for my fellow font fanatics.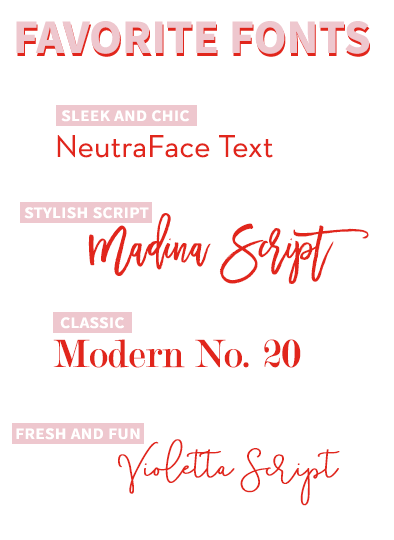 Sleek & Chic: Neutraface
Great for quote graphics, event invitations, and press materials such as fact sheets and visual press releases.
Stylish Script: Madina Script
Gorgeous calligraphy-style font that adds a hint of modern elegance to any project.
Classic: Modern No. 20
A strong serif font is a must and this one looks sophisticated in any form.
Fresh & Fun: Violetta
I wish my handwriting looked this good!
What are your favorite fonts?