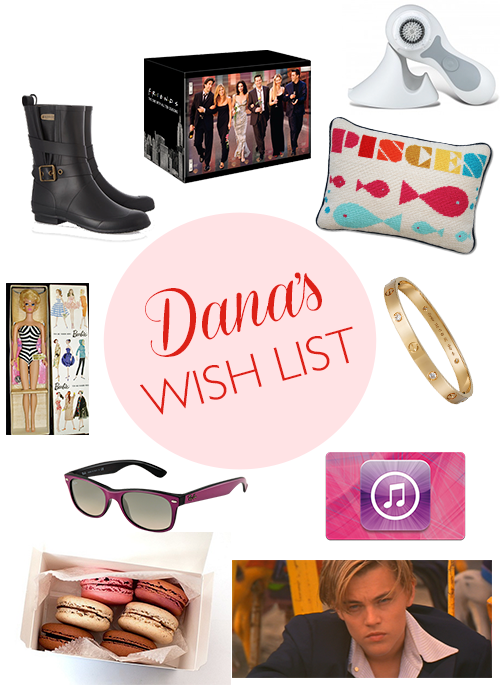 We can't be the only ones who love seeing what items other people are lusting over, right? Today, social media maven Dana Farber gives us a glimpse at ten items that are currently on her wish list:
1) Burberry Biker-Style Wellington Boots: I've secretly always wanted to let my inner "Sons of Anarchy" out with a pair of biker boots AND I always ruin my shoes in Chicago's torrential downpours, so these seem pretty amazing!
2) 10-Season Box of "Friends": While I can recite every line from every season of "Friends," my DVD collection still does not feel complete without this box set. Could it BE any more amazing?!
3) Clarisonic Skin-Cleansing Brush: Every beauty blogger I stalk read is obsessed with this, and I'm nothing if not a follower.
4) Jonathan Adler Pisces Zodiac Pillow: I'm a huge horoscope buff, and I pretty much believe anything I read, so why not have a constant reminder of my gullibility on my couch?
5) The Original Barbie Doll: I remember when I was a little girl and my mom had custom Barbie clothes made for all my dolls, because the ones sold at Toys"R"Us were just not good enough. Plus, how amazingly fierce was old school Barbie before she met Ken? #singleladies
6) Cartier Love Bracelet: If my future husband is reading this, take note for our anniversary. If not, then Mom, have I told you how much I love you lately?
7) '80s Purple Ray-Ban Wayfarers: So I can live out my lingering Andrew McCarthy in "Weekend at Bernie's" fantasies.
8) $1,000,000 iTunes Gift Card: I hate the idea of illegally downloading music, but I also hate paying for my ridiculously large music library, so anyone who has a million dollars to spare is more than welcome to buy me an iTunes gift card.
9) Macarons: Just all the macarons.
10) A date with Leonardo DiCaprio circa "Romeo + Juliet": Please and thank you.
What's on your wish list right now?
XO,
Dana