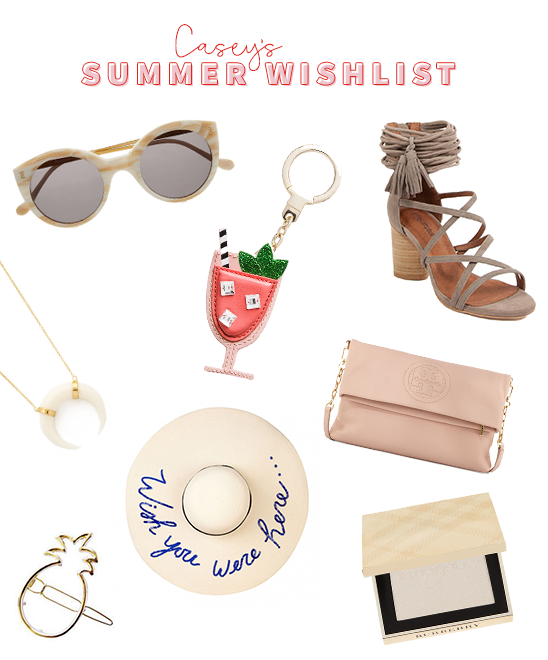 As Chicago attempts to bring on warmer weather, I'm slowly but surely preparing for spring and summer. While I tend to stick to basics with my outfits, accessories are another story. Here are a few pieces I'm lusting after lately:
Illesteva "Palm Beach" Sunglasses
Chic sunnies in the ideal shade of blonde? Yes, please!
Jacquie Aiche Double Bone Horn Necklace
I've been lusting after Jacquie Aiche's designs since pre-twerking Miley Cyrus wore one of her necklaces on the red carpet. Finally, the brand has released a more affordable version of their signature pendant! I can't wait to layer this with some of my other dainty necklaces.
Jeffrey Campbell 'Despina' Strappy Sandal
When it comes to sandals, I'm a gladiator girl through and through. Throw in a chunky heel for stability and a touch of fringe, I'm sold.  I also love that these come in a pretty shade of purple-y taupe, making them a great neutral option.
Eugenia Kim 'Wish You Were Here' Straw Sun Hat
…And this is why we're calling this a "wish list". There's no future in which I drop almost $500 on a beach hat but it's still fun to imagine, right?
Tory Burch 'Bombe' Foldover Clutch
In the summer I'm all about a crossbody bag. Toss in my phone, card case, keys, SPF and a punchy lip color and I'm set for a day strolling through the city. (Should I need to carry a few more things, I reach for a smaller version of my signature Longchamp tote. I'm loving this fun lemon/lime shade!)
Kate Spade Leather 'Cocktail' Keychain
I have this thing with keychains. The bigger, the better – which is probably why I love this cheeky piece from KSNY!
Burberry Beauty 'Gold Glow' Powder
I've recently upped my highlight game and have been stocking up on illuminating products. Say what you will about the Kardashians, but their cheekbone glow is inspiring! While I've been loving the products I have (the Anastasia Glow Kit and MAC 'Lightscapade' are favorites) this gorgeous Burberry powder might find its way into my makeup bag.
Urban Outfitters 'Pina Colada' Hair Clip
Warmer weather is not always kind to long layers, so finding cute ways to pull my hair back is always a springtime task. This little clip will add a little fun to any outfit and match my ice-cold cocktail perfectly!
What items are you adding to your spring & summer shopping list?