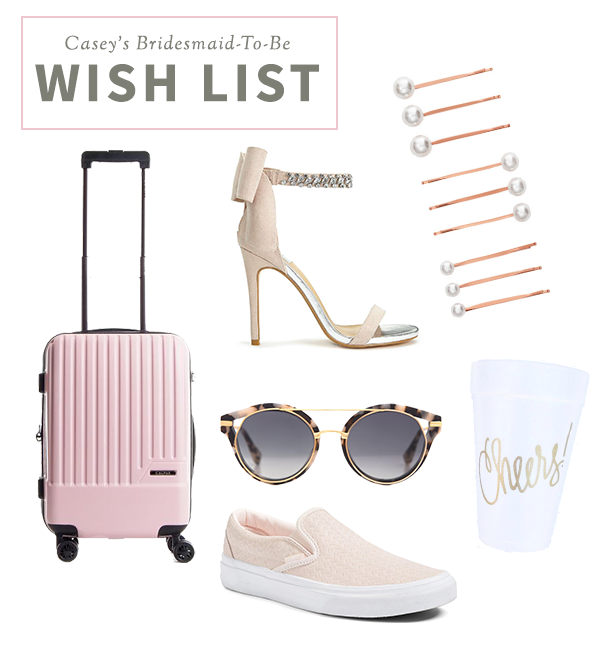 This year marks an exciting time in my life as many of my close friends are starting to get married. After the engagement, the celebrations continue for months, from bridal showers to bachelorette parties and finally, the wedding weekend. With half of my summer weekends already booked with these events, I'm planning ahead to ensure I have all the essentials a bridesmaid/wedding guest needs.
CALPAK Davis Carry-On
I've been on the hunt for a new carry-on suitcase for a while but haven't been able to commit. This one is chic, practical and the price is right.
Miss Selfridge Rhinestone Bow Back Sandals
I haven't started shopping for outfits, but it's a given that neutral shoes will be essential for all summertime soirees. I love that these are simple with a feminine twist.
Jen Atkin X Chloe + Isabel Pearl Pin Set
I love a good hair accessory and will definitely rock these on the reg this summer.
Sonix Preston Sunglasses
No matter the weather, I rarely go outside without sunglasses on and always like to cop a new pair for summer. I'm obsessed with this lighter tortoise option paired with gold framing.
Vans Classic Slip-On Sneakers
A good pair of slip-ons is key for airport travel and Vans have been a longtime favorite. The next addition to my collection will definitely be blush pink.
Cheers Foam Cups
I'm all about festive drinkware, so I'm stocking up on these for all the bridal festivities in my near future.