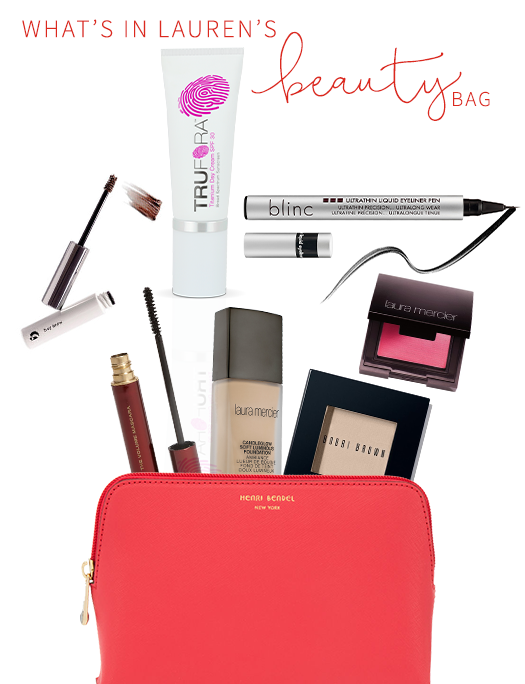 I'll be the first to admit it, I'm a beauty junkie. When it comes to what I put on my skin I am very particular. With the exception of special occasions, I keep my makeup very minimal and as natural looking as possible and I (try) to keep my daily beauty routine to about fifteen minutes. Here are my current, everyday beauty essentials:
Trufora Day Serum 85
I fear aging like some people fear spiders, so the very first step in my morning beauty routine is applying this antioxidant-packed serum. It protects my skin from the harsh environmental factors that come with city life. I immediately follow with a sunscreen of at least SPF30.
Laura Mercier Candleglow Soft Luminous Foundation
If you're looking for a foundation with just the right amount of coverage, this is it. It leaves my skin feeling fresh and it completely evens out my skin tone.
Bobbi Brown Eyeshadow in Wheat
Fellow pale ladies rejoice – I'm about to share with you the best beauty hack EVER. When contouring first became a "thing" I was feeling pretty left out. I am just about as fair skinned as you can get, and the basic contouring kits on the market left me feeling like I had tiger stripes on my face. My secret to the perfect pale skinned contour? Bobbi Brown's Eyeshadow in Wheat. Pop it under your cheek bones, along your jaw line and forehead and you're left with a perfect, natural looking contour.
Laura Mercier Second Skin Cheek Color in Violet Orchid
A little blush can change your entire look and I never leave home without it. This color is perfect for spring and summer – it's not as bright as it looks, I swear!
Blinc Ultrathin Liquid Eyeliner Pen
This eyeliner will change your life. I'm serious.
Kevyn Aucoin 'The Volume' Mascara
I was a devoted follower of the Chanel "Le Volume" cult for years before I found this mascara. I'm convinced I will use this Kevyn Aucoin mascara until the day I die. My lashes have never looked longer and fuller – I am beyond obsessed!
Glossier Boy Brow
I strive to have Cara Delevingne worthy brows. A girl can dream, right?
What are your current beauty obsessions?