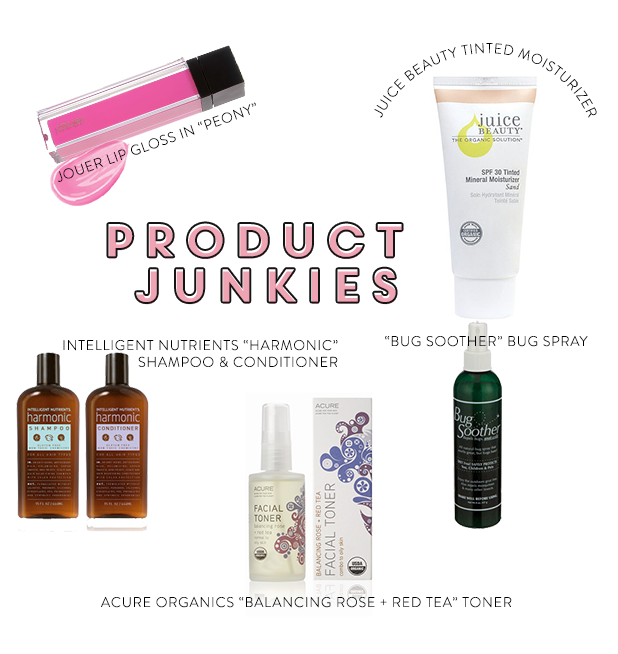 Juice Beauty – Tinted Moisturizer
When I know I am going to be in the sun all day either playing golf, spending time at the lake or at a festival, this is my go-to. It is the perfect lightweight tinted bronzer but doubles as a sunscreen with SPF 30. Great travel size, too!
Intelligent Nutrients – Shampoo & Conditioner
As I have mentioned in previous posts, I am slowly shifting to all clean products. I read a blog post about this company and decided to give it a try. I purchased the shampoo and conditioner and love both! They smell so good and are both clean products. Fun fact: The brand shares the same founder as Aveda!
Bug Soother – Bug Spray
Although this is not a product that I use daily, I do use it when I go up to the lake and want to spend time outside by the fire. I am not one to like or use bug spray, but with the influx of bugs this summer up at the lake, I took my aunt's advice and sprayed this stuff on. It has natural ingredients and doesn't have a potent smell!
Acure – Facial Toner Balancing Rose + Red Tea
I have posted about this company before and I keep adding its products to my daily routine. I purchased this facial toner because of reviews I had read online. It is the perfect pick-me-up when I wake up in the morning and smells amazing!
Jouer – Lip Gloss in "Peony"
I am normally pretty plain when it comes to lip color, but I was influenced to try something with a little bit of punch. I love the color pink so I thought why not give it a try on my lips. I love the color paired with a shirt in a darker shade so that it really pops!
What products have you been loving this summer?