Bear with me here, people … Don't judge this cake by its ingredients until you taste it!
I was put in charge of dessert for a family party but knew that we were going to be celebrating my cousin's birthday, too. While I opted for a chocolate-on-chocolate cake from Sweet Mandy B's, I also made a special cake for my vegetable-loving cousin. The gluten-free family members really enjoyed the cake too! These recipes are from The Spunky Coconut, Healthy Indulgences and Love and Lemons.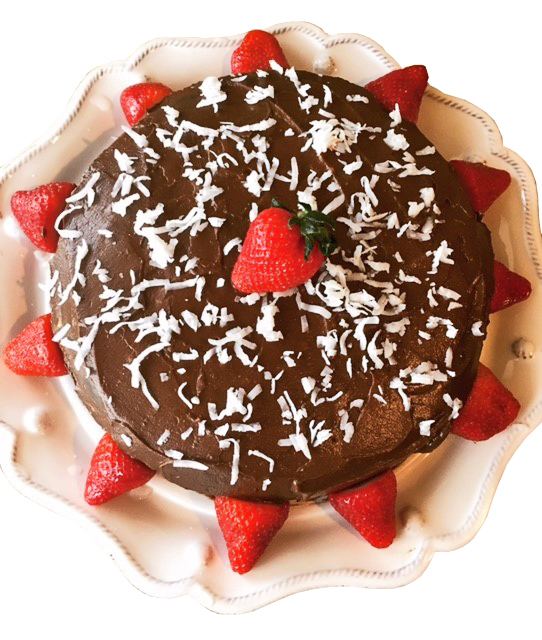 Black Bean Chocolate Cake
1 Can Black Beans
6 Eggs
1 TBS Vanilla Extract
½ TSP Salt
6 TBSP Cacao Powder
5 TBSP Coconut Oil
2 TBSP Honey (plus more to taste)
2 TBSP Coconut Flour
2 TSP Baking Powder
Mix all ingredients together. Coat a 9-inch spring form pan with coconut oil and pour ingredients in. Cook at 350 degrees for 40 minutes or until bounces back.
Chocolate Avocado Icing
2 Very Ripe Avocados
¼ Cup Chopped Baking Chocolate (around 65% cacao)
¼ Cup Unsweetened Cocoa Powder
½ Cup Agave
1 TSP Vanilla
½ Cup Almond Milk
Pinch of Salt
Melt the baking chocolate in the microwave (careful to not burn it!). Let it cool slightly. In a food processor mix all ingredients together. Taste and adjust. Let chill in the fridge for at least 15 or so minutes.
Put cake on cake stand or plate. Frost entire cake with Chocolate Avocado Icing. I topped my cake with coconut shavings and strawberries for decoration! Grab a fork and enjoy!