I'm not ashamed to admit that I'm totally obsessed with any and all types of cheese! Whenever I host a book club, girls' night in, or family gathering, my go-to appetizer is always a cheese plate. Easy to assemble and packed with an assortment of textures and flavors, a mix of different cheeses, meats, and fruits is a guaranteed crowd pleaser. While the options are endless, here are a few of my go-to ingredients for building a delectable and totally Instagram-worthy cheese platter: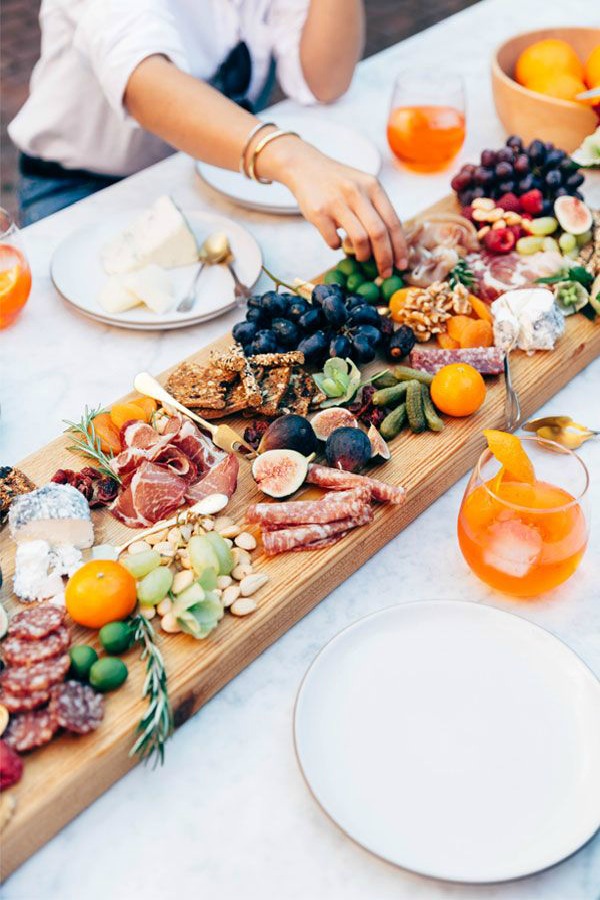 Photo via: Apartment 34
Cheese
A good rule is to have something hard, something soft, something goat, and something cow while offering a combination of aged, crumbly, and creamy cheeses. Since cheese is best served at room temperature, make sure to let your platter sit for about 30 minutes before serving.
Crackers
Sturdy chips and crackers, toasted bread, or baguette slices are all good options. You'll want to offer at least two choices.
Meat
Salami, Prosciutto, or other cured meats are staples of a good cheese plate. Mix spicy meats, like hot Soppressata, with mild ones or add rich flavors, such as Capicola for a variety of tastes.
Sweets
Add some color and bit of sweetness with fresh grapes or berries, dried apricots, or a side of jam or honey.
Nuts
For some crunch and salt, include nuts like almonds or cashews.
Once you have the perfect combination selected, carefully arrange everything on a pretty serving platter and enjoy